Description
The Ruote Pazze (Crazy Wheels) have a wheel shape with an outer crown, hub and six spokes.
Crown, hub and spokes have different thicknesses, and this gives a particular sensation to the chewing.
The Ruote Pazze mould is mentioned in a 1938 inventory of the Benedetto Cavalieri pasta factory. Since then, the Ruote Pazze have been a great ongoing success in Italy and abroad.
The Ruote pazze are in the menus of some of the best restaurants in the world.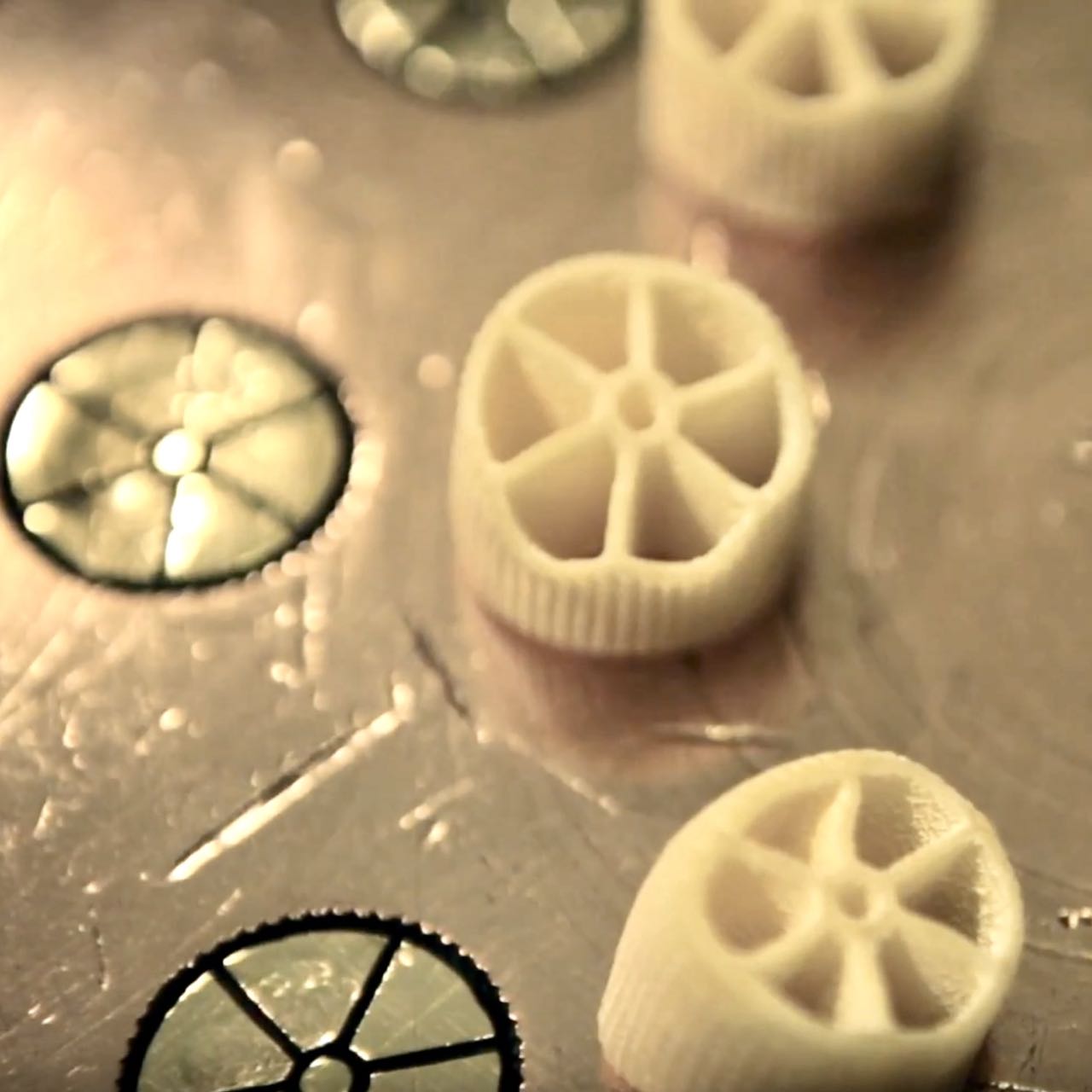 RUOTE PAZZE BENEDETTO CAVALIERI: PAIRINGS
The shape of the Ruote pazze retains well different sauces and ingredients. Try them with tomato sauces or vegetable-based sauces, or with cherry tomatoes and other vegetables.
Sometimes also try the Ruote pazze with just a little extra virgin olive oil and some Parmigiano Reggiano!
RUOTE PAZZE BENEDETTO CAVALIERI: AWARDS
In 2002 the Ruote pazze it have been awarded the prestigious Oscar of the National Association for the Specialty Food Trade at the New York Fancy Food Show.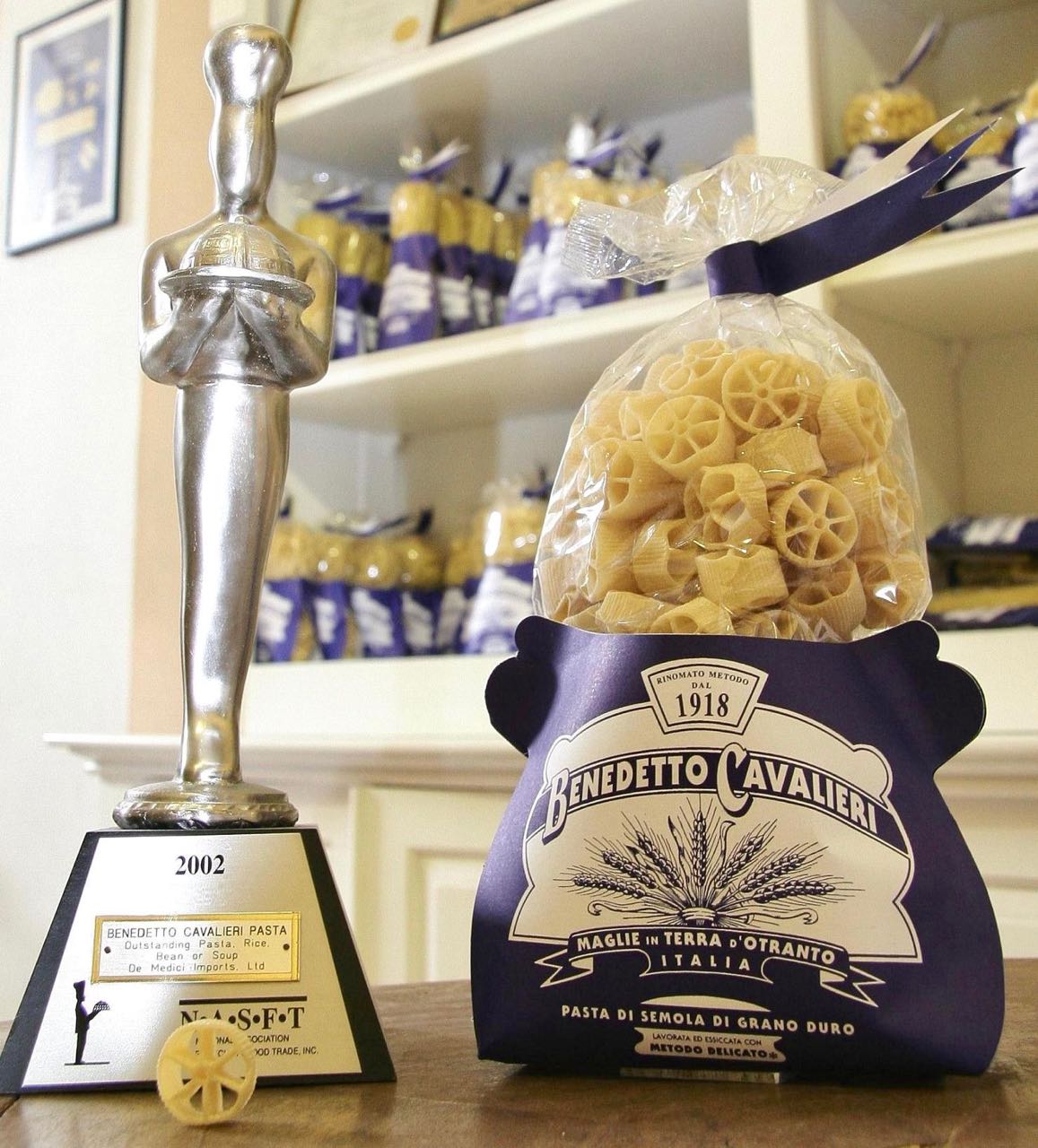 RUOTE PAZZE BENEDETTO CAVALIERI: COOKING TIME
RUOTE PAZZE BENEDETTO CAVALIERI: INGREDIENTS
RUOTE PAZZE BENEDETTO CAVALIERI: NUTRITIONAL VALUES
Average quantity for 100 g:
Energy: 355 kcal (1490 kj)
Fat: 1,5 g

of which saturates: 0,3 g

Carbohydrate: 75,5 g
Fibre: 2,5 g
Protein: 12,5 g
Salt: 0 g
The information on the label of the product may vary for reasons beyond our control. Therefore, there may be discrepancies between the information on the website and that on the product delivered. Please always check the information on the product before consumption or use.
BENEDETTO CAVALIERI ITALIAN PASTA
«Every package of pasta will gain credit from the previous one».
With this forceful message to his 83 collaborators, Benedetto Cavalieri inaugurated his Mill and Pasta Factory with the specific intent to produce first choice pasta. It was July the 7th 1918.
Benedetto Cavalieri Pasta is widely known for the keenness for pasta, the cure and the constant research for the best quality that the Cavalieri Family hands out from generation to generation.
Row materials are rigorously selected. They grow in purposely chosen fields especially on the hills of Apulia and Basilicata (South of Italy); the durum wheat is cultivated without the usual massive use of chemical fertilizers that increases the quantities at the expense of quality.
The Founder developed a method, called "Delicate Method": the long kneading, the slow pressing, drawing and drying at a low-temperature permit to preserve the nutritional values of the durum wheat, its taste and typical flavour and a completely natural consistency which is still so highly esteemed by gourmets.
Since 2005, Pastificio Benedetto Cavalieri has been appointed Learning Centre of Slow Food University of Gastronomic Sciences of Pollenzo (Piemonte). The thematic one-week seminars on pasta-making are attended by students who come from the five continents.
In 2018 the Pastificio Benedetto Cavalieri turned 100 years old!