Description
IL SECCO DEL BORGO WINE VINEGAR: INGREDIENTS
Wine vinegar from Trebbiano grapes. Contains Sulphites.
Aged in Oak Barrels.
Acidity: 8%
IL SECCO DEL BORGO WHITE VINEGAR: HOW TO USE IT
Il Secco del Borgo is an extremely versatile wine vinegar.
The flavour is strong and balanced.
You can use it to prepare fresh salads and marinades, and also together with some Balsamic Vinegar for a special, sour-sweet experience.
IL SECCO DEL BORGO WHITE VINEGAR: HOW IT IS PRODUCED
Il Secco del Borgo wine vinegar is prepared in the traditional way of turning wine into vinegar in the presence of wood chips.
Wood chips are first placed in the centre of a wooden cask (today a steel vat); then wine is sprayed from above.
The acetobacteria on the surface of the wood chips gradually acidify the wine, turning it slowly into vinegar. Secco del Borgo is then mellowed in oak casks: here it takes on its warm amber colour and it acquires its pungent, deep taste.
WHY GUSTOROTONDO LOVES IL BORGO DEL BALSAMICO
Gustorotondo loves Il Borgo del Balsamico for the high quality of the artisan products and for the fresh, elegant and clear style.
IL BORGO DEL BALSAMICO: TRADITION AND INNOVATION
In Botteghe di Albinea, near Reggio Emilia, Cristina and Silvia Crotti run a company that combine brilliantly the ancient tradition of balsamic vinegar with contemporary cuisine and a fresh, elegant and clear style: Il Borgo del Balsamico.
Il Borgo del Balsamico rises where the countryside of the Emilia Region meets gentle slopes famous for their Parmigiano Reggiano cheese, salami and Traditional Balsamic Vinegar.
It is a place of peace, in which nature and work of man live in harmony.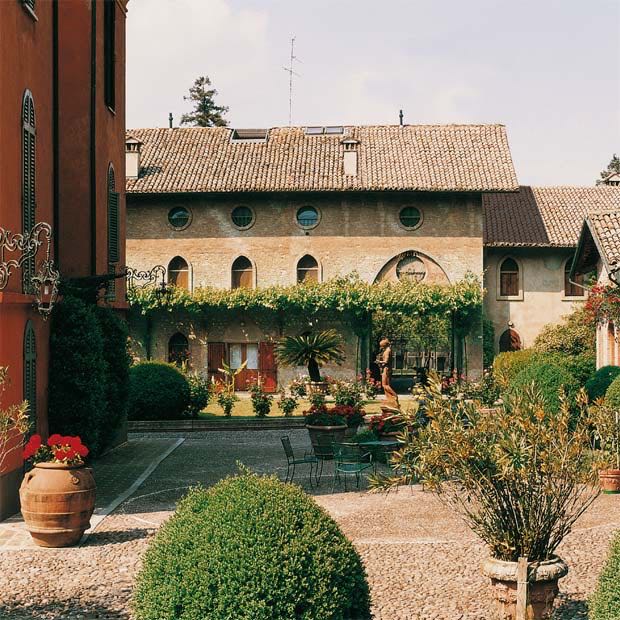 Work is inspired from love love for the native land, from father's traditions, passion for authentic things, awareness of the value of time.
The father transmitted to his daughters the art of balsamic vinegar; now, Il Borgo del Balsamico contributes to mantain it alive authentically.
Every product of Il Borgo del Balsamico is hand-packed.