Description
Packaged in the classic blue bag tied by hand with string, the Prato almond biscuits Antonio Mattei are part of the Tuscan confectionery tradition.
The Biscotti di Prato Antonio Mattei are made with high quality ingredients like Apulian almonds, fresh eggs, pine nuts from Pisa. You can taste the rich nuts over the flour and sugar that dominate the flavour of most biscotti.
WHY GUSTOROTONDO CHOSE THE BISCOTTI DI PRATO ANTONIO MATTEI
Gustorotondo chose the Biscotti di Prato Antonio Mattei for the high-quality ingredients, for the great taste, for the unique packaging and because they are an important part of the Italian culinary tradition
BISCOTTI DI PRATO ANTONIO MATTEI: INGREDIENTS
Wheat flour, sugar, almonds 20% free range eggs, pine nuts.
May contain traces of butter (milk), soy, pistachios.
BISCOTTI DI PRATO ANTONIO MATTEI: NUTRIONAL VALUES
Average quantity for 100 g:
Energy: 428 kcal (1801 kj)
Fat: 12 g
Carbohydrate: 66 g
Fibre: 3,2 g
Protein: 12 g
Salt: <0,01 g
The information on the label of the product may vary for reasons beyond our control. Therefore, there may be discrepancies between the information on the website and that on the product delivered. Please always check the information on the product before consumption or use.
BISCOTTI DI PRATO ANTONIO MATTEI: PAIRINGS
Biscotti di Prato are traditionally served at the end of the meal with a glass sweet Tuscan Vin Santo.
Try them also with other sweet wines (like Recioto, Moscato wine, Aleatico dell'Elba, Passito di Pantelleria, Marsala, Porto), or serve along gelato, or as part of an afternoon tea.
ANTONIO MATTEI COOKIES FACTORY
In 1858 at Via dell'Appianato, today's Via Ricasoli, Antonio Mattei, a baker and pastry cook from Prato, opened his biscuit factory and store. Mattei was a craftsman of humble birth, but he played a leading role in the history of Italian cooking.
Antonio Mattei cookies factory became well know beyond the borders of the city of Prato, as testified by the awards in Italy and abroad and by the special mention at the International Exposition of Paris in 1867.
Antonio Mattei also perfected a recipe creating the dry almond biscuit which was bound to become Prato's most typical and traditional biscuit.
Antonio Mattei's children had never been much interested in their father's business, but among the apprentices working with him in the factory there was one of proved talent and passion, Ernesto Pandolfini, grandfather to Marcella, Elisabetta, Francesco and Letizia.
He was an orphan and had been raised by his aunt Italia, who took over Mattei's business, in 1908, for her beloved nephew. That is how the story of three generations of biscuit makers begins.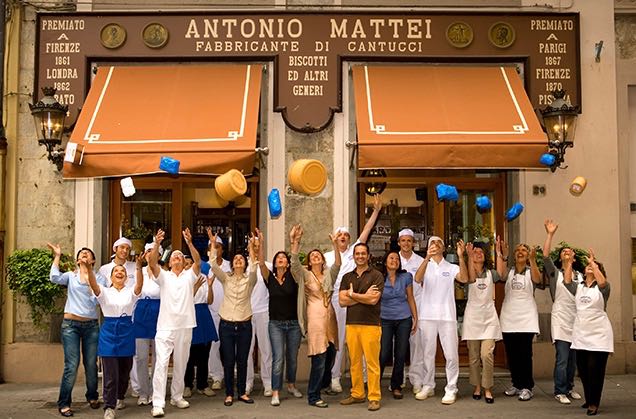 Ernesto Pandolfini created and developed new products, such as the Filone candito, Brutti Buoni, Biscotto della Salute, which are now thought of as the bakery's signature products and whose recipes and cooking methods are as strictly followed as those used in the making of the Biscotto di Prato.
Since 2015 Antonio Mattei biscuits factory is a member of the Unione Imprese Storiche Italiane, the association of ultra centenarian Italian Companies which unites brands of established prestige and international prominence.
On September 29th, 2016, Italy's post office Poste Italiane issued  a stamp entitled to Mattei Biscuits Factory, commemorating the high-quality craftsmanship, in a project promoted by the Ministry for Economic Development.