Online shopping and online shops or web stores have become part of everyday life for many people, and are, more and more often, realities that make online buying possible on the Internet.
Online shopping ranges from the online purchase of books and fashion items or insurance policies to the Internet purchase of train, air or concert tickets, household appliances and specific types of food (organic, Italian and so forth).
Often we search for the best online shopping sites, and as users, we often think that online shopping couldn't be simpler; just click on the products you want to buy, go to the basket page and checkout, paying with one of the various systems available, such as credit card, Paypal, bank transfer, cash on delivery, Ideal or Sofort.
In just a few days, sometimes in a few hours, our online order arrives at our home, or at one of the pick-up points we have chosen.
But is it really that simple?
What goes on "behind" our computer screen? What makes our online purchase possible?
And what does our little series of clicks set in motion?
A travel in the world of Internet, e-commerce and the various types of online shop
In this article we will have a look behind the computer screen, asking some questions:
What is a web store?
How does a web store work? What happens when we shop online, for example when we buy food on line from Gustorotondo?
What types of online stores exist? How can we classify them?
Where can we shop online? What types of online stores can we choose from?
What is an online store? And how do online shopping and in general online purchases work?
As we said, it all seems very simple: click, and off you go! However, lots of things are going on behind our computer screen. Let's see!
The online store (or online store, web store, online shop)
An online store – or virtual store, online shop or online store – is a web site which allows those visiting it to shop entirely via Internet, i.e. in a way where the economic transaction takes place totally within the web.
The purchased product, instead, can be delivered:
online – or in line, or on-line – such as, for example, in the case of songs, video games, apps.
via physical transport, which is often carried out by express couriers such as FedEx, UPS, DHL.
What do our clicks produce on the ecommerce site?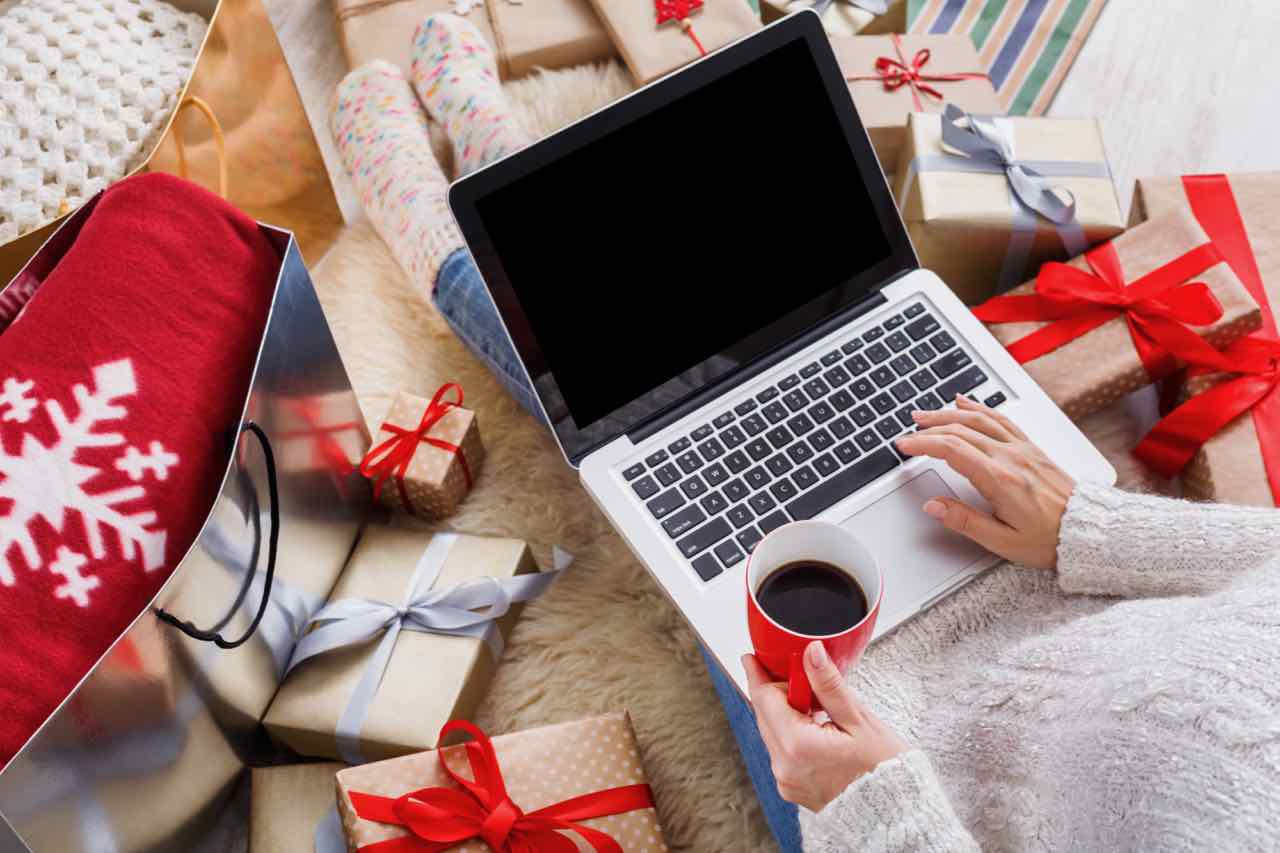 To buy online from an online store (or online shop, web store) we take a product, we put it in the basket, and then at the checkout, we enter our address for delivery, and pay.
We receive a purchase confirmation by email and, after a few days or hours, our products arrive. And behind the scenes, what has happened? How did our shopping reach our home?
A lot of work follows our clicks. We don't see it, but it's there.
The ecommerce site is created and maintained, both in terms of structure and contents.
When we buy, our action is registered and shown to an operator on the systems "behind the scenes", i.e. on that part of the ecommerce site we don't see and which allows our actions to function on the visible part of the web site (the so-called front-end).
Our purchase, our online shopping, will have caused the virtual stock to decrease, i.e. the number of products of a certain type available for purchase.
The operator (or even the system, automatically), at this point, will check that all the things we have requested can be delivered – i.e. that there were no errors in the warehouse – and it will send a confirmation that the online order has been received.
At this point, the ordered products will be packed and sent! It is the strictly more logistic part of ecommerce that sells the physical goods.
A package will be prepared containing the purchased products; a label will be produced identifying the package and a courier will be called to deliver it.
The produced label will be the element which allows the package to be tracked, i.e. to know where it is, every minute of its journey.
When the package arrives, the courier will register it, and in this way we will know that it has been picked up from the store or warehouse; any further movement will then be registered, until it is delivered to its destination.
And if something has to be corrected?
This is another part of the work going on "behind" our computer screens. The online stores provide services for the clientele – Customer Care services – for managing situations such as, for example, requests for information on the order's status.
Types of online stores
Online shops can be classified in various ways, for example according to size, type of products sold or the geographical area they deal with.
Some online stores are general, they offer everything. An example is Amazon, whose name refers to the River Amazon, the largest river in the world in terms of water flow, number of tributaries and water catchment area.
Other ecommerce sites, on the other hand, are specialised. i.e. they only deal with a certain type of product. Among these we can classify, for example, Monclick, thee-commerce site which offers electronic products and electrical household appliances for sale, or Yoox, which sells items of clothing in the fashion sector.
Then, there are online shops which are particularly focused on specific requirements or need for details, such as for example, Mr. Porter which not only supplies products but also provides accurate more detailed information, offers advice and helps to create a style.
Online food shops
Another way to classify online shopping sites is to distinguish between shops offering food (online food shop, online food store) and those which, instead, do not offer food (non-food stores).
What do we find in shops that sell food online? Who can we contact for our online food shopping?
We cannot only shop at online general supermarkets, but also at more specialised online shops, selling, for example, only organic products. Or at web stores specialising in the foods from a particular region or country (for example those selling only Italian food, online Italian food shops, online Italian delicatessens, online Italian delis).
Then there are some stores that offer not only products, but also information, explanations and advice that may help understand the world better and create a more intelligent food style. For example they provide information on style in the world of fashion, or about Italian cooking, or on the nutrients contained in specific products.
'Shopping' and 'food store' concepts seem a bit limiting for those moving in this sphere.
This is where we find Gustorotondo.it, whose work is aimed at helping people to live better bringing them authentic, healthy, tasty artisan food, and spreading a more conscious food culture. So, Gustorotondo is not only an online Italian grocery store. The 'Taste Stories' are a tool for getting to know traditions, ingredients and recipes of the Italian culture better and creating a more harmonious and conscious relationship with food.