Shrimp and zucchini pasta is a light, nutritious and easy to prepare dish.
The flavor of zucchini goes very well with that of shrimps. Some details, such as cutting zucchini into slices or instead into strips, give life to different taste experiences. Furthermore, it is possible to add to the ingredients a little cream, or saffron, cherry tomatoes or the bisque.
Let's see the ingredients, how to prepare a tasty and healthy shrimp and zucchini pasta recipe, nutritional values ​​and some indications also to make some variations of the recipe.
PREPARATION AND COOKING TIME
Here are the approximate preparation and cooking times for the recipe of pasta with shrimp and zucchini:
Time to prepare the ingredients: 10 minutes
Time to cook the dish: 15 minutes
Total time: 25 minutes
SHRIMP AND ZUCCHINI PASTA: INGREDIENTS FOR 4 PERSONS
Durum wheat pasta 320 g
Zucchini 2
Peeled shrimp 200 g
Extra virgin olive oil 3 o 4 tablespoons
Garlic cloves 1
HOW TO PREPARE SHRIMP AND ZUCCHINI PASTA
To prepare pasta with shrimp and zucchini, follow these simple steps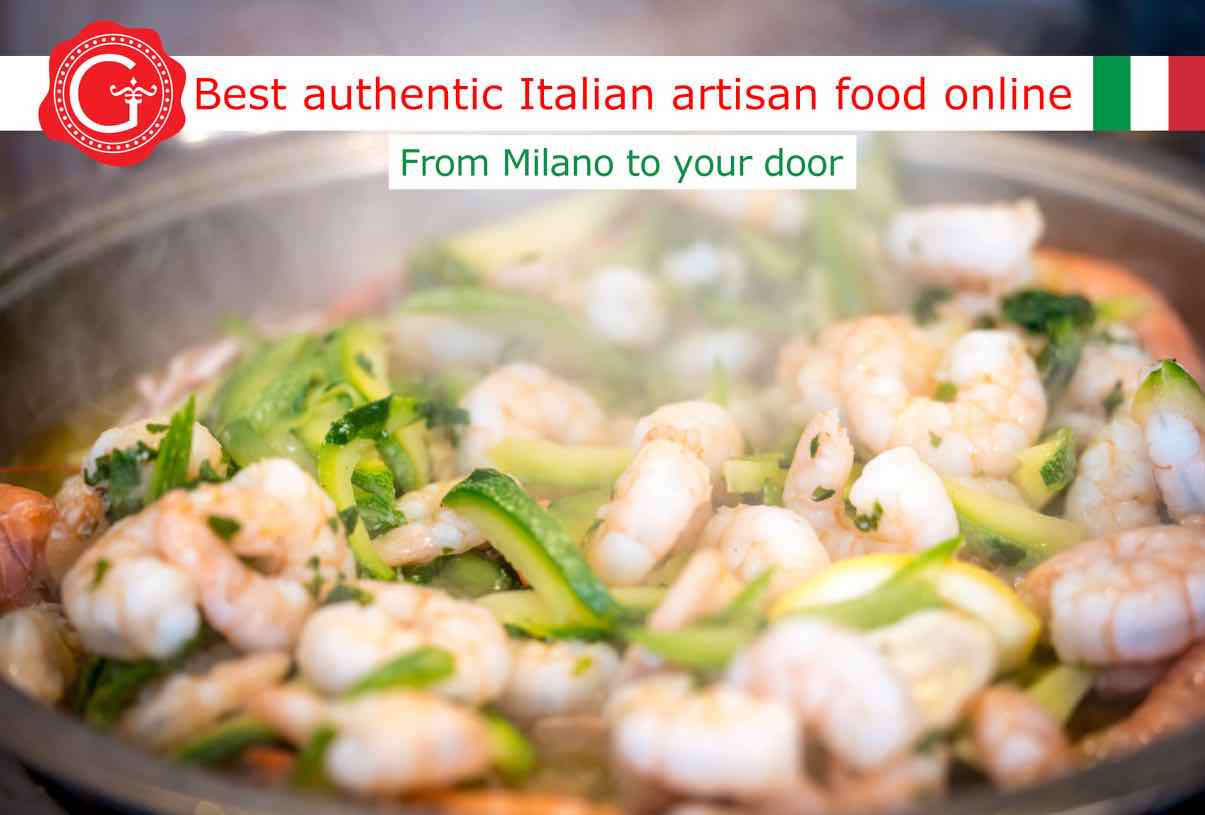 Preparation of the ingredients
Rinse the shrimps under running water. Now remove head, shell and legs. If you wish to prepare the bisque (see below the paragraph dedicated to tips or further information) keep heads and shells.
If you notice a thin, black string (the intestinal tract) down back of the shrimp, you can remove it. It is generally bitter. To remove it, take a sharp paring knife and gently make a shallow cut along the length of the black line; then, lift out the black string with the tip of the knife or your fingers.
Take a pot to cook pasta; pour water and put it on the stove.
Wash the zucchini and cut the two ends. You can cut the zucchini into thin circular slices or stripes. If you wish to cut them into strips, cut the zucchini cross-wise in half so as to obtain shorter pieces; then divide each piece lengthwise in half. Now cut each part into thin slices.
With the palm of your hand press the clove of garlic against the cutting board, so that the clove crushes.
How to cook shrimp and zucchini pasta
Pour 3 or 4 tablespoons of extra virgin olive oil into a large pan. Heat the oil over a fairly high heat and, and before it reaches the smoke point add the clove of garlic and the shrimps.
After a few minutes, when the shrimp are a slightly browned, add the zucchini.
When the water in the pot boils, add some coarse salt and toss the pasta.
When the pasta is almost al dente, taste the sauce in the pan and adjust salt and pepper to taste. Remove the garlic clove.
Set aside a ladle of cooking water. Drain the pasta, and transfer it to the pan. Sauté the ingredients together, possibly adding a little cooking water.
SHOP ONLINE THE BEST ARTISAN ITALIAN INGREDIENTS FOR YOUR DISHES
On Gustorotondo you find the best artisan Italian pasta to prepare your shrimp and zucchini pasta and other high-quality ingredients:
organic raw honey, extra virgin olive oil, wine vinegar, high-quality artisan pasta.
We look for producers who have high-quality standards, and we offer artisan Italian good products that enhance the tradition and authentic flavours of the Italian cuisine.
Gustorotondo was born as a traditional Italian food store in the center of Milan, and then started the e-commerce business. Now you can shop traditional Italian food online on Gustorotondo. You can buy from all over Italy, from England, from Germany, from the Netherlands, from the Czech Republic, and from all the other European countries.
Shop online the best authentic artisan Italian food at Gustorotondo!
SOME TIPS OR FURTHER INFORMATION
Linguine is a very suitable shape for pasta with shrimp and zucchini. Indeed, linguine tend to wrap the ingredients also thanks to a little bit of starch they release.
While you are browning the shrimps, you can pour a little brandy and/or white wine.
To add further flavor to your shrimp and zucchini pasta, you can add the bisque. The bisqueis a tasty cream that is prepared using shrimp's scraps, vegetables and some other ingredients.
Pasta with shrimp, zucchini and cream
Fresh cream (the one which can be whipped, without sugar) gives the dish a creamier texture. If you wish to use it, add about 200 ml to the pan just before the other ingredients are ready.
Pasta with shrimp, zucchini and saffron
You can also add a little saffron to the recipe. If you wish to use saffron, melt about 0.125 g in a ladle of hot water and add it to the pan after putting the zucchini.
SHRIMP AND ZUCCHINI PASTA: NUTRITIONAL VALUES AND CALORIES
A portion of shrimp and zucchini pasta prepared according to the recipe (without cream) contains about 56 g of protein, 17 g of lipids and 65 g of carbohydrates.
The fatty acids contained are mainly monounsaturated.
Shrimps contain B vitamins and zinc, which are important for the proper functioning of the metabolism, calcium and phosphorus, useful for maintaining healthy bones and teeth, iron, which helps transport oxygen.
One portion of pasta with shrimp and zucchini provides about 630 kcal.
HOW TO STORE SHRIMP AND ZUCCHINI PASTA
Shrimp and zucchini pasta should be eaten immediately. However, if you need to store it, follow these steps:
Wait until it gets to room temperature;
Put it into a container that can be sealed with a lid;
Close the container, and place it into the fridge.
You should preserve it only for one day.
To eat it, put a pan on the stove, and pour a little extra virgin olive oil. Sauté over medium/high-heat without moving it for about 3 minutes; then move it, and sauté for another 3 minutes.