Dried mushroom risotto is a classic Italian cuisine recipe full of charm. Mushroom risotto can also be prepared with fresh or frozen mushrooms. Here we will use dried mushrooms, which make it possible to prepare the recipe even when fresh ones are not available. Preparation needs some time because it is necessary to rehydrate the mushrooms by soaking them in water for at least 1 hour. Cooking time is about 25 minutes. We will see ingredients, preparation and some advice or further information.
DRIED MUSHROOM RISOTTO INGREDIENTS FOR 4 PERSONS
320 g rice
40 or 50 g dried mushrooms
1 small golden onion or ½ large onion
½ glass of white wine
About 1 liter of vegetable broth
50 g butter
80 g Parmigiano Reggiano or Grana Padano
2 table spoons extra virgin olive oil
Salt to taste
Black pepper to taste
PREPARATION
To prepare your dried mushroom risotto, start by pouring the dried mushrooms in a bowl and cover them completely with warm water.
Leave the mushrooms to soak for at least one hour, so that they rehydrate.
Meanwhile, chop the onion rather finely.
When the mushrooms are rehydrated, drain them.
Cut the mushrooms into small pieces.
Take a pot and pour about a liter of water. Prepare the vegetable broth.
Now, take another pot and put it on the stove. Pour a drizzle of extra virgin olive oil, and sauté the onion.
When the onion is slightly browned, pour the rice into the pot to toast it. Season with a little salt and pepper and mix over high heat for about two minutes.
Pour the white wine and let it evaporate, that is to say, evaporate all the parts except the dry extract. The process is called sfumatura.
As the rice absorbs the broth, add more, making sure that the rice remains always covered.
A few minutes before the rice is ready, add the mushrooms.
When the rice is ready, remove the pot and add the cheese. Amalgamate the ingredients.
SHOP ONLINE THE BEST RICE FOR YOUR RISOTTO RECIPES
On Gustorotondo you find the best artisan authentic Italian rice for your dried mushroom risotto recipes and other authentic Italian foods.
We look for producers who have high-quality standards, and we offer artisan Italian good products that enhance the tradition and authentic flavours of Italian cuisine.
Gustorotondo was born as a traditional Italian food store in the center of Milan, and then started the e-commerce business. Now you can buy traditional Italian food online on Gustorotondo from all over Italy, from England, from Germany, from the Netherlands, from the Czech Republic, and from all the other European countries.
Shop online the best authentic artisan Italian food at Gustorotondo
DRIED MUSHROOM RISOTTO: WHICH RICE TO USE?
The rice that is most often recommended for the preparation of risotto (including dried mushroom risotto) is Carnaroli. By law in Italy under the Carnaroli trade name other varieties of rice can also be sold. Find out more about the Carnaroli. Also other rice varieties, such as Vialone Nano or Arborio, are suitable for the preparation of the classic risotto. Do you know why? Well, because the classic risotto is considered good when the grains, while absorbing the flavours, remain firm. They come together in a 'cream', but they are not stuck together. Find out more about risotto. However, some persons love brown rice, even for health reasons. You can also prepare a tasty dried mushroom risotto with brown rice, which contains more unsaturated fatty acids, minerals and fiber compared to milled rice. Furthermore, highly bioavailable vitamins and phenolic compounds are found in the aleuronic layer of brown rice.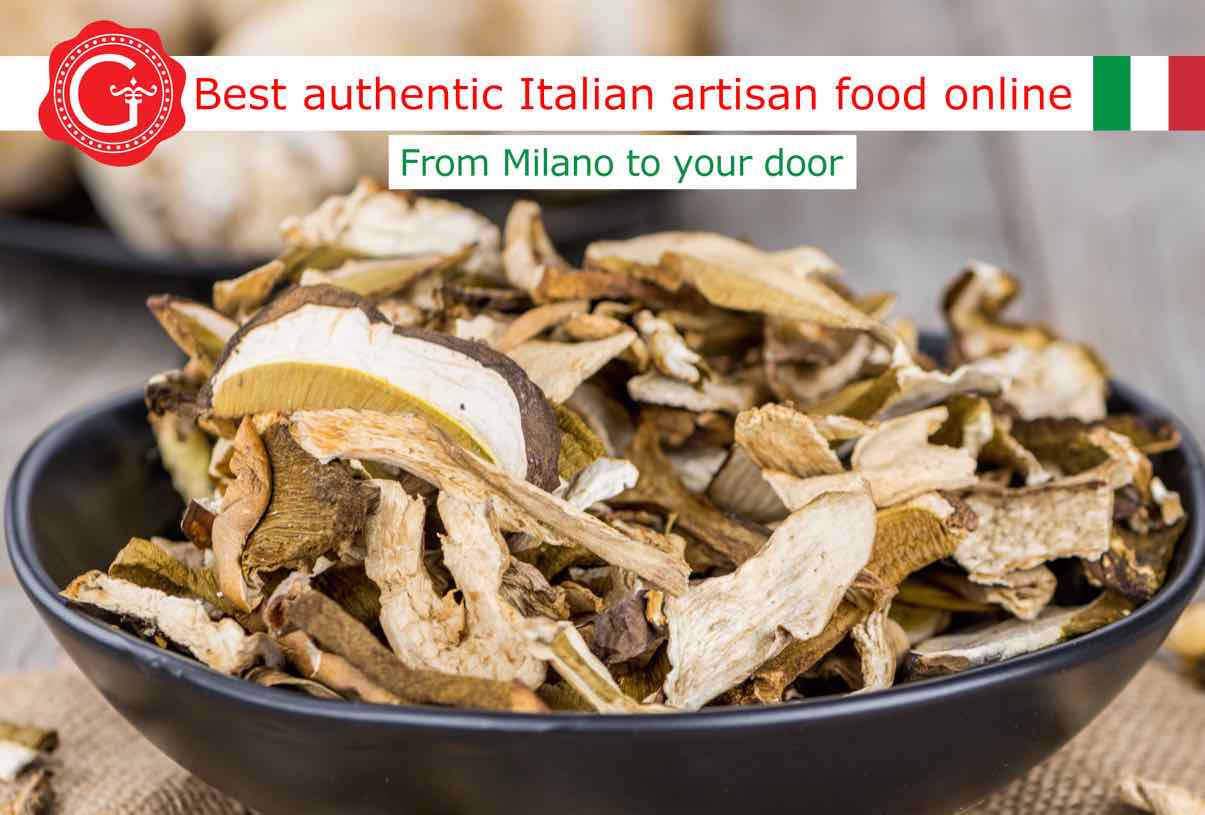 SOME TIPS OR FURTHER INFORMATION
Risotto rice grains should be firm. Drain the rice just before it is completely cooked, as it will continue to cook for a little while.
To mix the ingredients at the end of the preparation, you can proceed in two different ways. In fact, you can use a spoon and stir the rice or you can grab the pot and gently flick the risotto up and down.
DRIED MUSHROOM RISOTTO CALORIES AND NUTRITIONAL INFORMATION
A portion of dried mushroom risotto brings about 590 kcal.
It contains indicatively:
Protein: 13 g
Lipids: 27 g
Carbohydrates: 72 g
The proteins are contained above all in parmesan and in rice. The fatty acids, contained above all in butter, parmesan and extra virgin olive oil, are about equally saturated and monounsaturated (about 12 grams for each type), and to a small extent polyunsaturated.