The Risotto recipe is a typical Italian recipe, prized for its creamy texture and rich taste.
Several versions of risotto are widespread, and there are myriads of Italian risotto recipes.
In this article, we will look at how to cook risotto, the best rice for risotto, the Italian risotto rice history
RISOTTO RECIPE: A BRIEF HISTORY OF RICES AND ITALIAN RECIPE
Risotto recipe has changed over time for several reasons.
To make Italian risotto, Carnaroli rice, Vialone Nano or Arborio rice have not always been used, and the ingredients have not always been the same.
Until the twenties of the 20th century, it was widely believed, at least in Italy, that no artificial hybridation could be carried out for rice.
In 1925 Professor Sampietro of the Stazione sperimentale di Risicoltura e delle Coltivazioni irrigue (now CRA-RIS)
discovered the possibility of cross-fertilization of rice.
How has risotto recipe changed?
One of the first results of the artificial cross was a new Italian rice, the Vialone Nano rice.
The Vialone Nano variety was born in 1937 from the crossing of Vialone rice variety and Nano rice variety. It should actually be called Nano Vialone, because he mother's name is indicated before that of the father.
If until that moment the Italian rice that was eaten had a rounded shape, through the crossings it was possible to obtain rice varieties with more tapered grains – as is the case with Vialone Nano rice – or with larger grains, such as Carnaroli rice.
In 1925 the Lady Wright rice variety was introduced from California; Lady Wright rice is parent of famous varieties such as:
Arborio rice, obtained by Domenico Marchetti di Arborio in 1946 from the crossing with Vialone
Gigante Vercelli (1936)
Razza77 (from which the Roma rice, 1938).
Also other ingredients in the risotto recipe have changed.
Sometimes butter and meat broth were used for the risotto recipe; today we tend to prefer ingredients of plant origin.
CARNAROLI RICE FOR AN AUTHENTIC ITALIAN RISOTTO RECIPE: SHOP ONLINE THE BEST ITALIAN ARTISAN FOODS AT GUSTOROTONDO
On Gustorotondo you find Carnaroli rice for you risotto recipe and the best artisan Italian ingredients for your dishes:
organic raw honey, extra virgin olive oil, wine vinegar, high-quality artisan pasta.
We look for producers who have high-quality standards, and we offer artisan Italian good products that enhance the tradition and authentic flavours of the Italian cuisine.
Gustorotondo was born as a traditional Italian food store in the center of Milan, and then started the e-commerce business. Now you can shop traditional Italian food online on Gustorotondo. You can buy from all over Italy, from England, from Germany, from the Netherlands, from the Czech Republic, and from all the other European countries.
Shop online the best authentic artisan Italian food at Gustorotondo!
HOW TO COOK RISOTTO
The risotto recipe, the real risotto recipe, does not exist. However, there are some rather well-established practices for cooking risotto, and it is possible to distinguish 4 steps (1):
Toasting
Sfumatura
Cooking
Creaming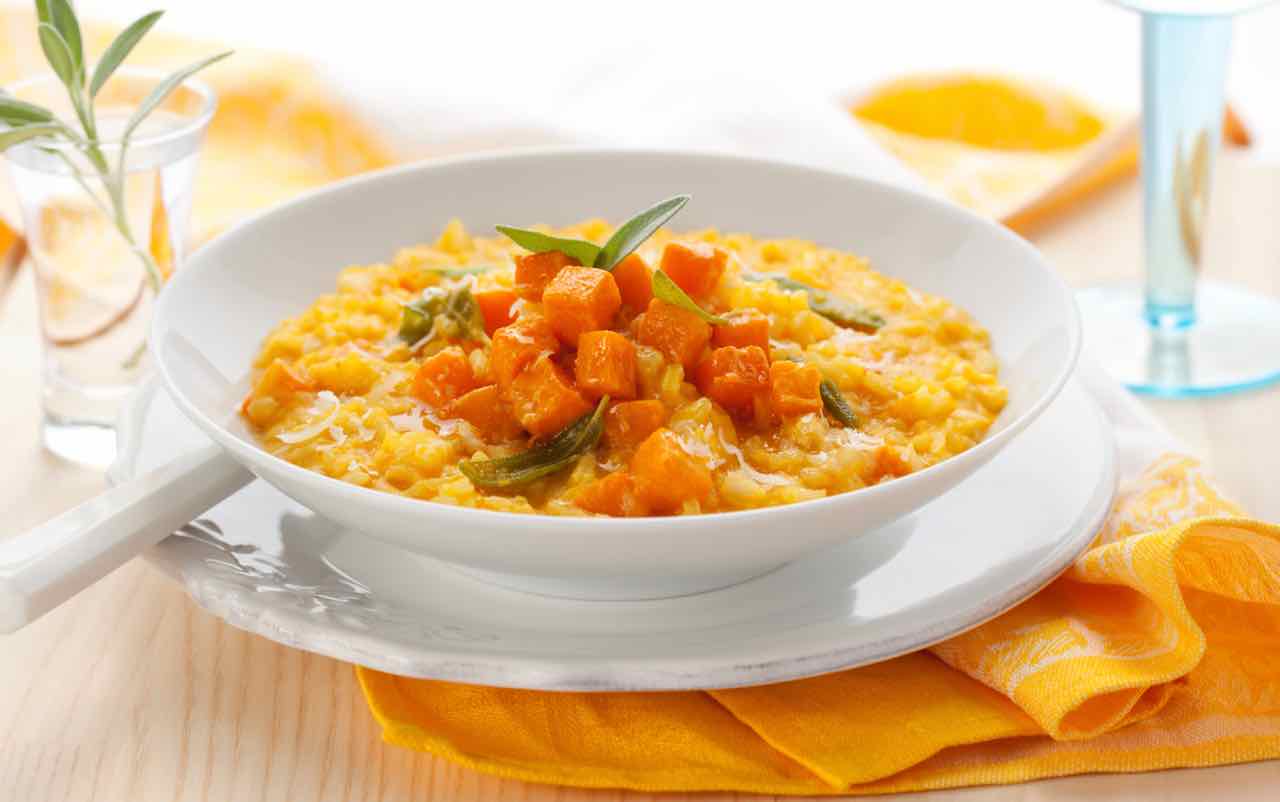 Rice toasting
Rice toasting is the first step of the risotto recipe.
Rice toasting improves the cooking resistance. In fact, contact with hot oil causes the pores of the grain and any microfractures to be closed. Toasting helps ending up with a risotto with grains that maintain their own shape, rather than being mushy.
On the other hand, toasting the rice for too long can prevent from ending up with a creamy risotto.
The roasting is carried out either as the first operation of risotto recipe or, if you choose to fry onion, after the latter.
If you decide to use onion, add half a cup of finely chopped onion; cook on medium-low until it is translucent.
To toast the rice, pour it into the hot pan, add salt and pepper and stir it over medium-high heat for a couple of minutes.
'Sfumatura': an open question in the art of risotto
Sfumatura is a noun related to the verb fumare, to smoke or to steam: once you add the wine a puff of steam will come out of the pan.
The sfumatura of rice is an increasingly less used phase in the risotto recipe, since it is believed to cover the flavors of rice.
The question of whether sfumatura is appropriate or not, however, seems to be open. It also counts the final result on the palate: is it better or worse?
If you decide to add some wine, pour it onto the freshly toasted rice, and let evaporate all the parts except the dry extract.
Rice cooking: how to cook rice?
The rice is now ready to be cooked.
Normally, hot broth is added. Broths and other preparations can be used. In particular:
Vegetable broth, prepared with celery, carrot, onion and other vegetable aromas
Meat broth, ingredient for structured risottos
Fumetto and bisque, for risotto based on fish and crustaceans
Some chefs use unsalted water for cooking rice, in order to bring out the flavor of rice as much as possible.
Cooking rice slowly, on a medium-low flame, is important: while cooking, rice releases the starch and achieves the sought-after creaminess.
During the cooking process, it is important to add to hot stock, not cold.
How do you know when risotto is done?
The best way to understand if the risotto is ready is to taste it. The rice grains should be swollen and intact, with a quite firm texture.
'Mantecatura': for a creamy risotto
Mantecatura translates creaming. This is the last of the activities in the risotto recipe, and it provides for the addition of fats that make it creamy.
The most used ingredients are butter and Grana Padano or Parmigiano Reggiano cheese.
Once the new ingredients have been added, you can use a spoon to mix them.
BEST RICE FOR RISOTTO
There are many types of rice. But what is the best rice for risotto recipe?
Normally it is considered that risotto should have large, compact grains, which absorb the flavors, united in a 'cream' but not stuck together.
The types of rice best suited for risotto tend to have good amylose content.
Among the best rice varieties to make risotto recipe we find:
We often hear that Carnaroli is the best rice to make risotto. In fact, despite being a rather dated variety, it is characterized by excellent consistency and low stickiness
Vialone Nano. Despite the small size of the grain, Vialone Nano has similar characteristics to Carnaroli in terms of consistency and stickiness
Arborio has very large grains, although according to some it has a slightly too low consistency and excessive stickiness. It should be added that the Arborio, due to the high sensitivity to diseases and low productivity, has been replaced by the Volano
Other good options for making a good risotto are:
Roma, established in 1962 at the Stazione sperimentale di Risicoltura e delle Coltivazioni irrigue di Vercelli. The name 'Roma' was given in honor of the capital
Baldo, whose grain is similar to the grain of Roma rice, but crystalline
Gigante Vercelli
Razza77
Reperso, result of recent research
Sant'Andrea, which is also the typical variety for Panissa, a dish of the Vercelli area
Below we report the levels of consistency, stickiness and amylose of some rice varieties recorded in a study (2)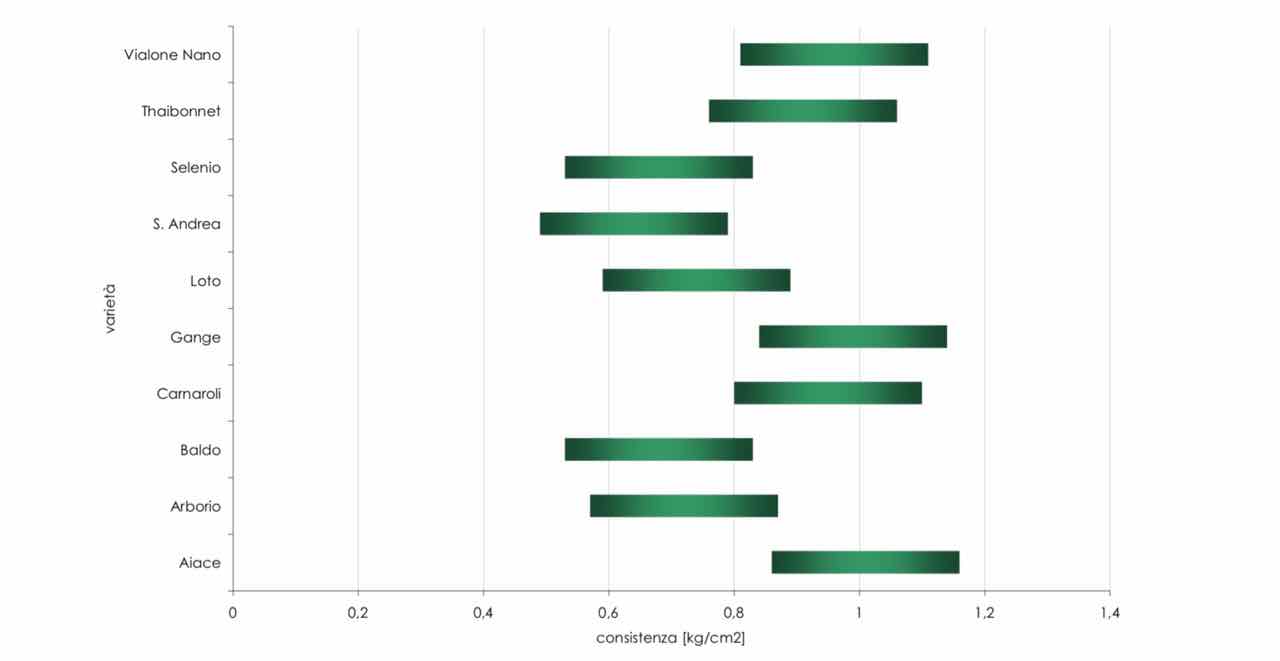 Risotto rice: Rice Consistency (Hardness)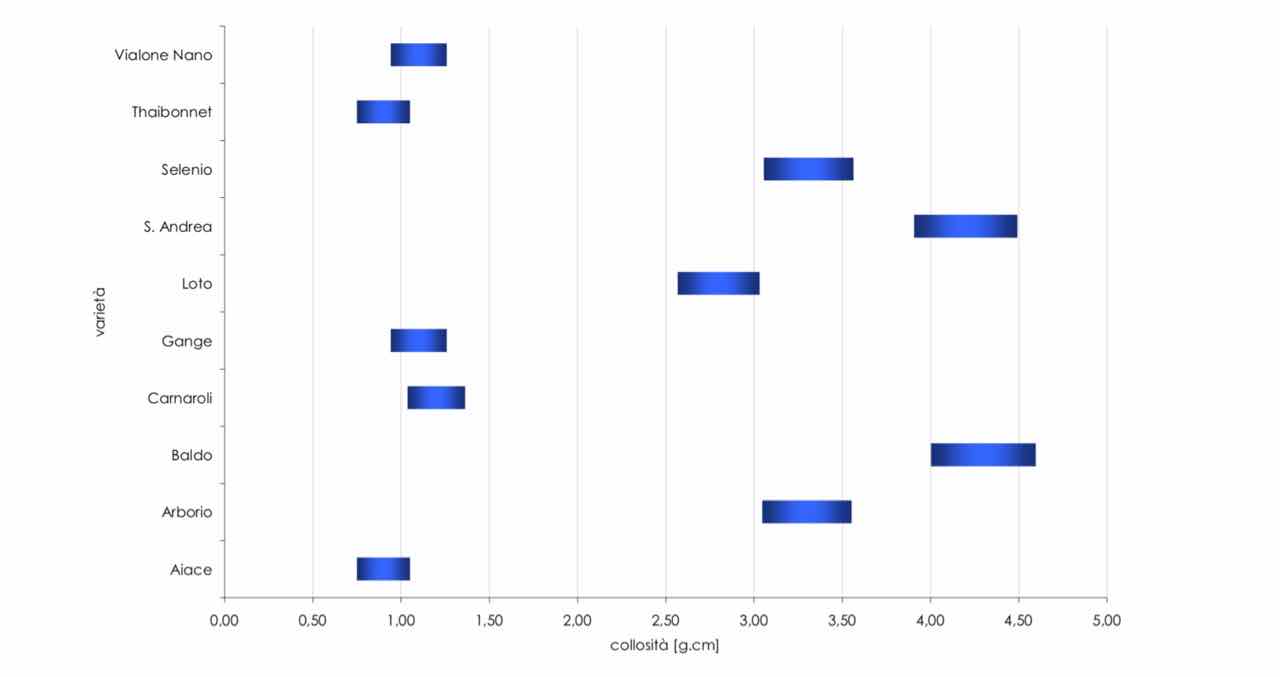 Risotto Rice: Rice Stickiness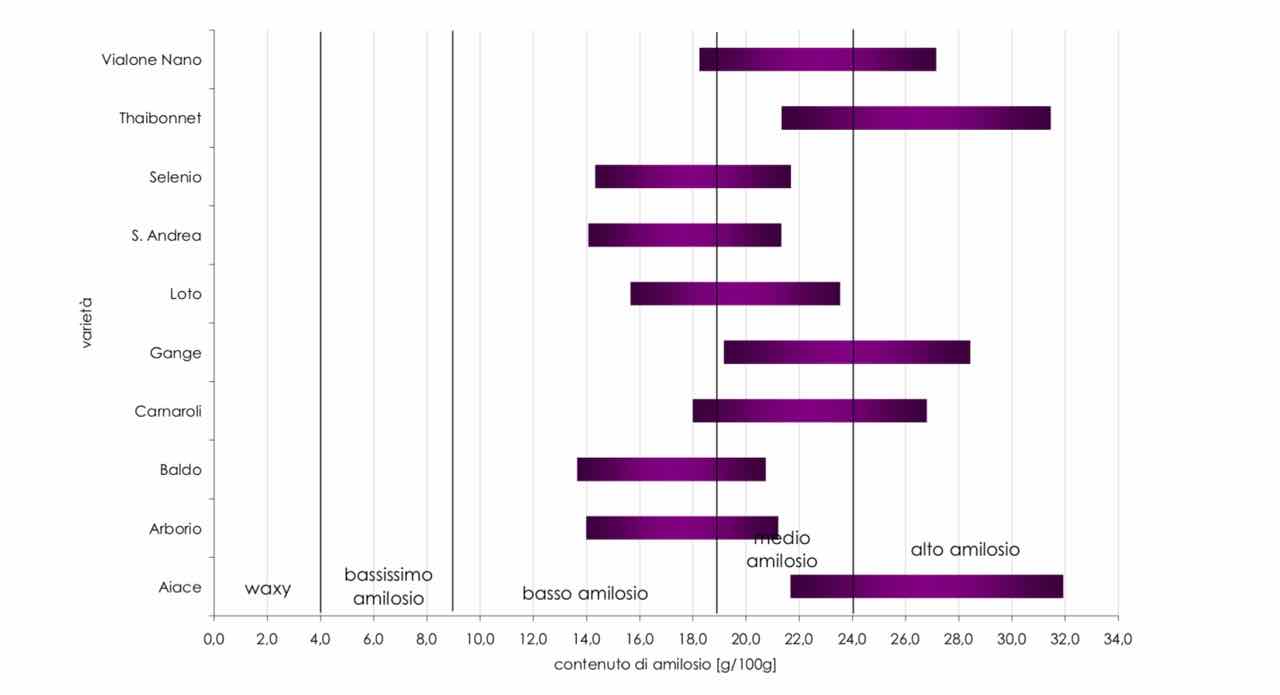 Risotto Rice: Amylose content
RISOTTO RECIPE: NOTES AND BIBLIOGRAPHY
(1) Let's follow what has been created by Valentina Masotti & Massimo Biloni, The book of Italian rice – from paddy to dish. With the preface by Paolo Massobrio, I libri de ilGolosario, Cairo 2017
(2) https://www.enterisi.it/upload/enterisi/pubblicazioni/Pubblicazione_analisi%20sensoriale%20riso_IMP_13383_549_16405_41.pdf
https://www.seriouseats.com/2011/10/the-food-lab-the-science-of-risotto.html
SIGN UP TO THE GUSTOROTONDO NEWSLETTER!
Gustorotondo Newsletter informs you about good Italian food, Italian recipes and cuisine, Italian artisan producers, tasty & healthy food products and exclusive offers.