Want to know how to cook brown rice? You are in the right place! Brown rice is not only healthy but also a versatile option that can be reinvented in multiple recipes. Hot or cold, brown rice has become a Must in menus around the world.
It is very simple to cook brown rice, but it is also easy to mess up and undercook it giving it a crunchy taste or overcook it and give a squishy texture to the rice. The main question about how to cook brown rice perfectly is ''How long to cook brown rice?.'' Well, it depends on how you are planning to prepare the rice. On this article I will show you how to cook brown rice in the microwave, in the rice cooker and on stove.
Before starting with the preparation of the rice, soak the rice on water for around 20 minutes. This will clean the rice from external factors and the nutrients will be fully absorbed.
HOW TO COOK BROWN RICE IN THE MICROWAVE
Preparing brown rice in the microwave is one of the fastest methods. The following instructions are considered for 1100 Watt microwave. Cooking with a higher power is not recommended.
How to cook brown rice in the microwave? Let's see.
Choose a large microwave safe container. This is very important, as rice will expand during cooking.
Add rice to the container. For each cup of rice you need to add 3 cups of water
Put the container with the rice on the microwave and start cooking on High Power for 10 minutes
Cook for another 20 minutes in Medium Power
Let the rice rest for around 5 minutes so it will absorb the remaining water
Add salt and butter and mix the rice
Tips: be careful when removing the container from the microwave as water will be boiling and might splash around. There will be a lot of steam too.
SHOP ONLINE THE BEST BROWN RICE
On Gustorotondo you find the best artisan Italian Brown Rice and other high-quality authentic Italian foods.
We look for producers who have high-quality standards, and we offer artisan Italian good products that enhance the tradition and authentic flavours of Italian cuisine.
Gustorotondo was born as a traditional Italian food store in the center of Milan, and then started the e-commerce business. Now you can buy traditional Italian food online on Gustorotondo from all over Italy, from England, from Germany, from the Netherlands, from the Czech Republic, and from all the other European countries.
Shop online the best authentic artisan Italian food at Gustorotondo
HOW TO COOK BROWN RICE IN RICE COOKER
Cooking brown rice in a rice cooker is effortless, as the rice cooker will do all the work for you. Some rice cookers have a special setting for brown rice, if yours does not have it; there is no need to worry. To cook brown rice in rice cooker just follow these simple instructions:
Put the rice in the cooker
Add 3 cups of water for every cup of rice. This will make the different when using the 'regular rice' setting on your cooker
Add salt. A quarter teaspoon per cup should be enough
Turn the rice cooker on. Your rice will be ready in 35-40 minutes.
Take the rice outside the cooker and add any extra ingredient you would like to add
Tip: Do not open your rice cooker while it is working as it will ruin the rice.
To fluff the rice just stir it with a fork while it is still hot. You can also add some Parmigiano Reggiano cheese while doing this to give it an Italian taste.
HOW TO COOK BROWN RICE ON STOVE
Preparing brown rice on a stove is the traditional recipe to prepare the rice. It takes some extra effort but in my opinion it really worth it. The flavor is preserved better and you will be able to add the ingredients on the go and play with the taste
There are two different ways to prepare brown rice on the stove: on a regular pot or on a pressure cooker. Let's see how to make it.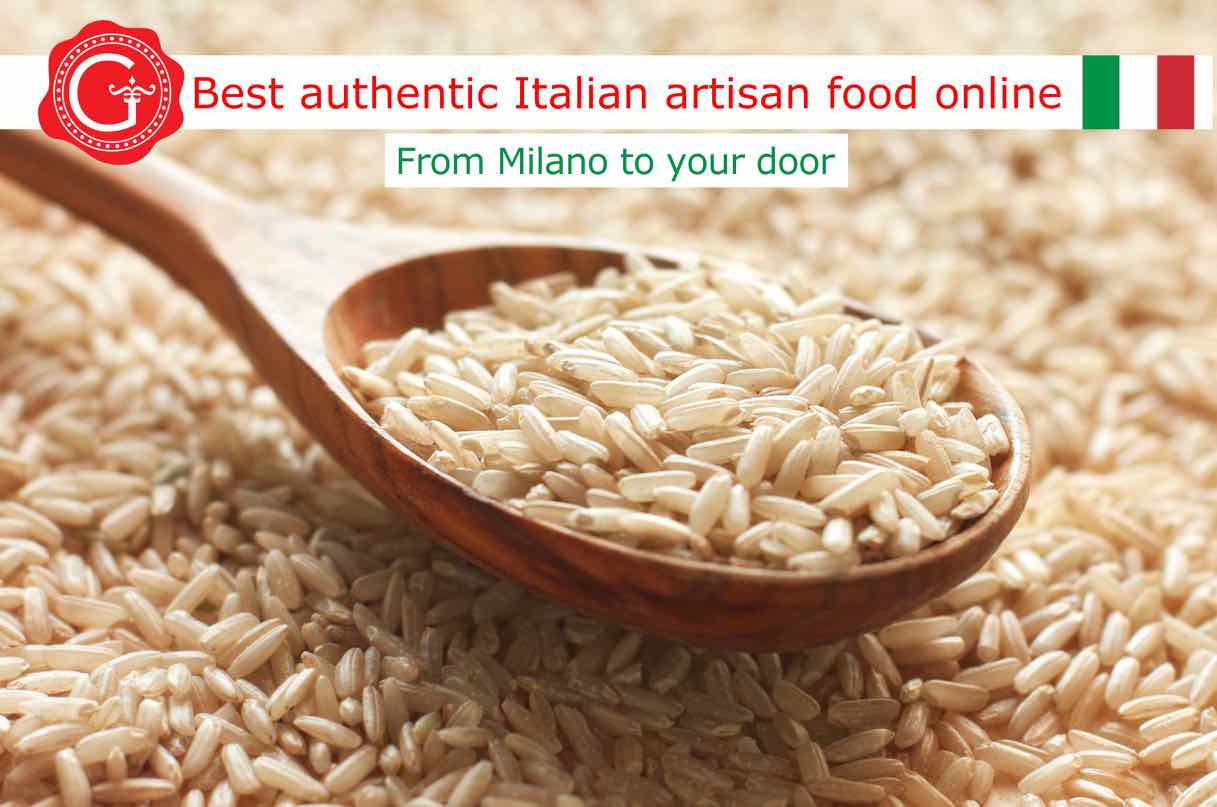 How to cook brown rice in a pot
This recipe for cooking rice is definitely my favorite because you have more control during the cooking and can add extra ingredients at any time according to your taste or your will of experimenting. Here is how you do it:
Add a little oil to the pot and heat for a minute
Chop and add garlic or onion (optional)
Add the rice and with a wood spoon mix it with the oil and garlic/onion
Add the water (3 cups of water per cup of rice)
Add salt
Set the heat medium- high and cook for 25 minutes always checking on the level of water (it should always cover the rice)
Try the rice and heat in medium for other 15 minutes
Leave the rice on the remaining water for 5 minutes so the rice will absorb the remaining water.
Tip: you can add broth to the rice instead of water in order to enhance the flavor of the rice
If you want to add an extra Italian taste to the recipe, on step 3, add a glass of wine and mix it with the content of the pot. When rice is ready, add some Grana Padano or Parmigiano Reggiano cheese and then mix.
How to cook brown rice in pressure cooker
To prepare the rice in a pressure cooker, follow these easy steps
Add to brown rice, water and some salt to the pt (2 cups of water per cup of rice)
Pressure cook the rice at high head until you hear 2 whistles (approximately to 7 to 12 minutes)
Change the temperature to medium-low and cook for extra 30 minutes
After the heat is off, let the rice rest for around 5 minutes inside the closed pot
Open the pressure cooker and stir the rice with a fork
HOW TO COOK BROWN RICE PERFECTLY
In order to cook brown rice perfectly you should consider that it needs more water than white or other types of rice. The amount of liquid needed varies according the type of rice and the cooking method but as a general rule, you should use 3 cups of water for every cup of rice. When the cooking method allows it, try the rice so you can understand if needs more time or if it done. It can be a matter of personal taste so it depends on your own decision. In order to achieve good results the only advice we can give you is practice, practice and more practice.
Many people like to eat brown rice alone but it is also very good when mixed with vegetables, shrimps, risings or cheese.
HOW LONG TO COOK BROWN RICE
As we have seen before, cooking times depends on the cooking method and on the type of of brown rice you are going to prepare (short, long grain and so on). It usually cooks way longer than white rice as the brown grain has an extra layer. It is not possible to prepare in in 10 minutes unless you are using precooked rice. Usually it requires to change from high to low fire on the last 15-20 minutes of the cooking process.
BROWN RICE RECIPES
Some of the most popular and yummy  brown rice recipes we have tried so far are the following:
Pineapple fried rice
Chicken and brown rice
Brown rice with chicken
Brown rice with salmon
Brown rice with mushrooms
Brown rice with tuna
There are also brown rice recipes with veggies