100 g of extra virgin olive oil contains about 900 kcal (kilocalories).
It also happens to find the energy value referring to 100 ml of evoo: 100 ml of extra virgin olive oil contain about 824 kcal.
The difference between the two values ​​is due to the fact that the oil density is lower than that of water.
The density of the water is equal to 1 gram per millilitre, while the density of the oil is equal to 0.916 g per millilitre. 100 ml of oil therefore weigh 0.916 grams and contain the 824 kilocalories seen above (0.916 * 900).
The calories contained in evoo derive almost exclusively from lipids. Since 1 gram of lipids develops about 9 calories in human metabolic processes, extra virgin olive oil calories are around 900 per 100 g of product.
CALORIES IN EXTRA VIRGIN OLIVE OIL: TOO MANY?
SHOP ONLINE THE BEST ITALIAN EVOO
On Gustorotondo you find best Italian evoo.
We look for producers who have high-quality standards, and we offer artisan Italian good products that enhance the tradition and authentic flavours of Italian cuisine.
Gustorotondo was born as a traditional Italian food store in the center of Milan, and then started the e-commerce business. Now you can buy traditional Italian food online on Gustorotondo from all over Italy, from England, from Germany, from Netherlands, from the Czech Republic, and from all the other European countries.
Shop online the best authentic artisan Italian food at Gustorotondo!
HOW MANY CALORIES ARE IN A SPOONFUL OF OLIVE OIL?
If we consider a tablespoon containing about 15 ml of liquid, then a tablespoon of extra virgin olive oil contains approximately 120 kcal.
In fact, if 100 ml of oil bring about 824 calories, how many calories do 15 ml make?
100 ml: 824 kcal = 15 ml: x kcal
The calories are equal to 824 * 15/100, that is 124.
A teaspoon evoo, on the other hand, contains about 5 ml and, therefore, about 41 kcal.
If you want to know precisely how many milliliters a spoon or a teaspoon you have at home, fill it and pour the contents into a graduated glass, or pour several tablespoons or teaspoons into another graduated container.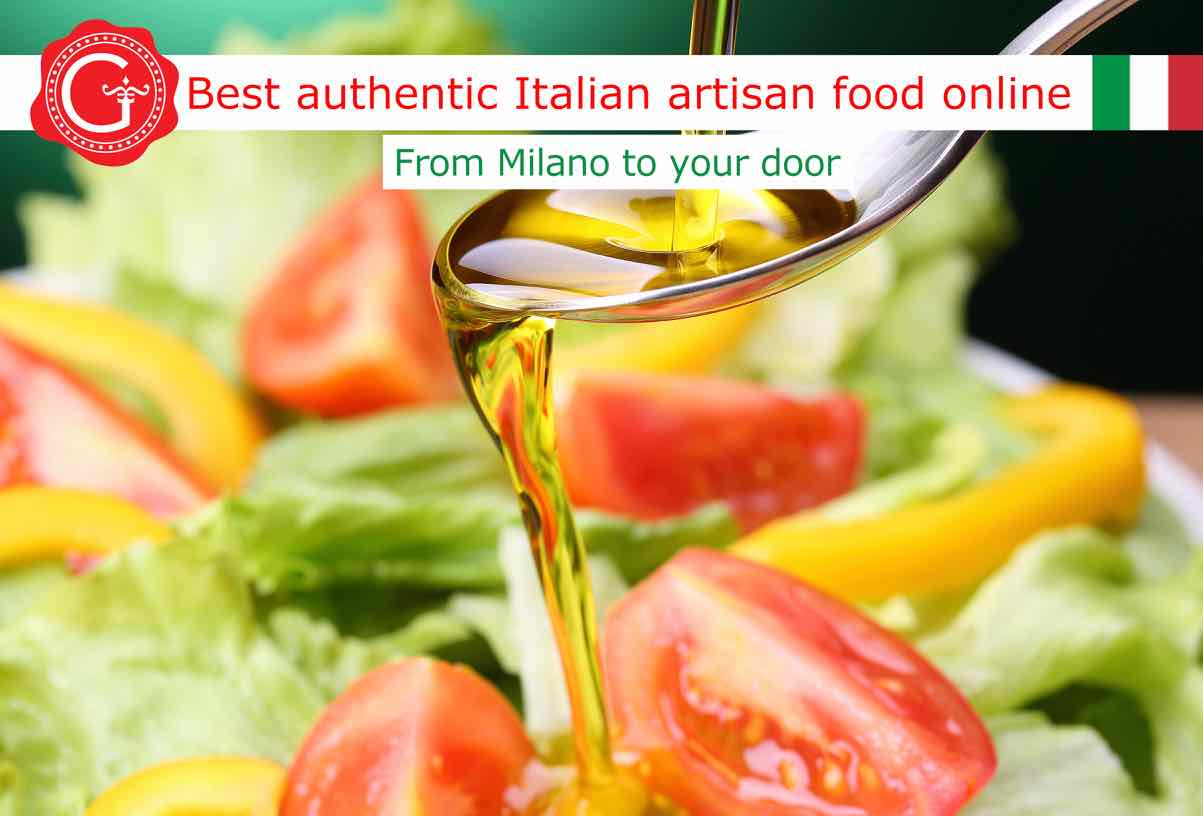 CALORIES IN EXTRA VIRGIN OLIVE OIL AND OTHER FOODS
We have seen that evo oil caloriesare about 900 kcal per 100 g (often the value of 899 kcal is found).
The energy, expressed in kilocalories, made by 100 g of edible part other oils is the same. For example:
Olive oil calories: 899 kcal per 100 g
Coconut oil calories: 899 kcal per 100 g
Peanut oil calories: 899 kcal per 100 g
Rapeseed oil calories: 899 kcal per 100 g
Palm oil calories: 899 kcal per 100 g
Soybean oil calories: 899 kcal per 100 g
If we consider other foods, in some cases used instead of evoo, we can find different values. For example:
Butter: 758 kcal per 100 g
Vegetable margarine: 760 kcal per 100 g
If you consider only calories in extra virgin olive oil and other foods, you should choose other foods. So why not always use butter for example, instead of oil, given that evoo contains more calories?
The answer is to be found inthe particular composition of evoo lipids, and in the presence of molecules, such as polyphenols, considered useful components of a healthy diet.
EXTRA VIRGIN OLIVE OIL NUTRITION FACTS
Beyond the calories in extra virgin olive oil, what are the nutritional values?
Extra virgin olive oils are not all identical. However, approximately, the composition of 100 g of evoo is as follows:
Lipids (g): 99.9, of which:

total saturated (%): 14.46
total monounsaturated (%): 72.95
total polyunsaturated (%): 7.52

Iron (mg): 0.2
Vitamin A retinol eq. (µg): 36 *
Vitamin E (mg) 22.4
Water / ì (g): traces
Zinc (mg): traces
Copper (mg): traces
Selenium (µg) traces
* Carotenes are about eighty and have an orange-red color. The b-carotene molecule, present in evoo, is twice the molecule of vitamin A. The enzyme carotenase present in the liver causes the beta-Carotene to split, reducing two molecules of vitamin A. For this reason the β-Carotene is called Provitamin A.
OLIVE OIL CALORIES: REFERENCES AND BIBLIOGRAPHY
http://nut.entecra.it/646/tabelle_di_composizione_degli_alimenti.html?idalimento=009210&quant=100
https://www.youmath.it/domande-a-risposte/view/6701-un-cucchiaino-quanti-ml.html
https://www.ncbi.nlm.nih.gov/pmc/articles/PMC3317714/
IF YOU LIKE THE ARTICLE ABOUT OLIVE OIL CALORIES, SHARE IT AND SIGN UP TO THE GUSTOROTONDO NEWSLETTER!
Gustorotondo Newsletter informs you about good Italian food, Italian recipes and cuisine, Italian artisan producers, tasty & healthy food products and exclusive offers.
You may also be interested in: