Cold rice salad is a classic Italian dish. We eat it especially during summer, both as a first course and as a main course. There are several versions of the recipe. Usually the basic ingredients are vegetables, cheeses, ham, eggs and tuna. In order to succeed well, in any case, it is important to use suitable rice and good quality ingredients. Let's see which rice to use, a healthy and savoury cold rice salad recipe and some tips!
WHICH RICE TO USE FOR RICE SALAD
Which rice to use for a good Italian cold rice salad recipe? The most important thing is that rice grains have a good hardness and do not stick together. For this reason, some types of rice are more suitable than others.
Cold rice salad can be prepared either with brown rice or with white rice. Let's see better. 
Brown rice
There are several varieties of brown rice. Some, like the brown Ribe rice, have a brown pericarp, while others have a black (for example, Venere rice) or red (for example, Ermes rice) pericarp. You can cook brown rice in different ways. For example:
In a pot with total water absorption
In a pot draining the water after cooking
In a pressure cooker
To cook the brown rice, put it in cold water and then bring the water to a boil.
If you need more information, read this article about how to cook brown rice.
White rice
To prepare the Italian cold rice salad, use a rice variety with grains that have good hardness and that do not stick together. Some very good varieties to prepare the recipe are Carnaroli, Arborio, Baldo, Vialone Nano and Basmati.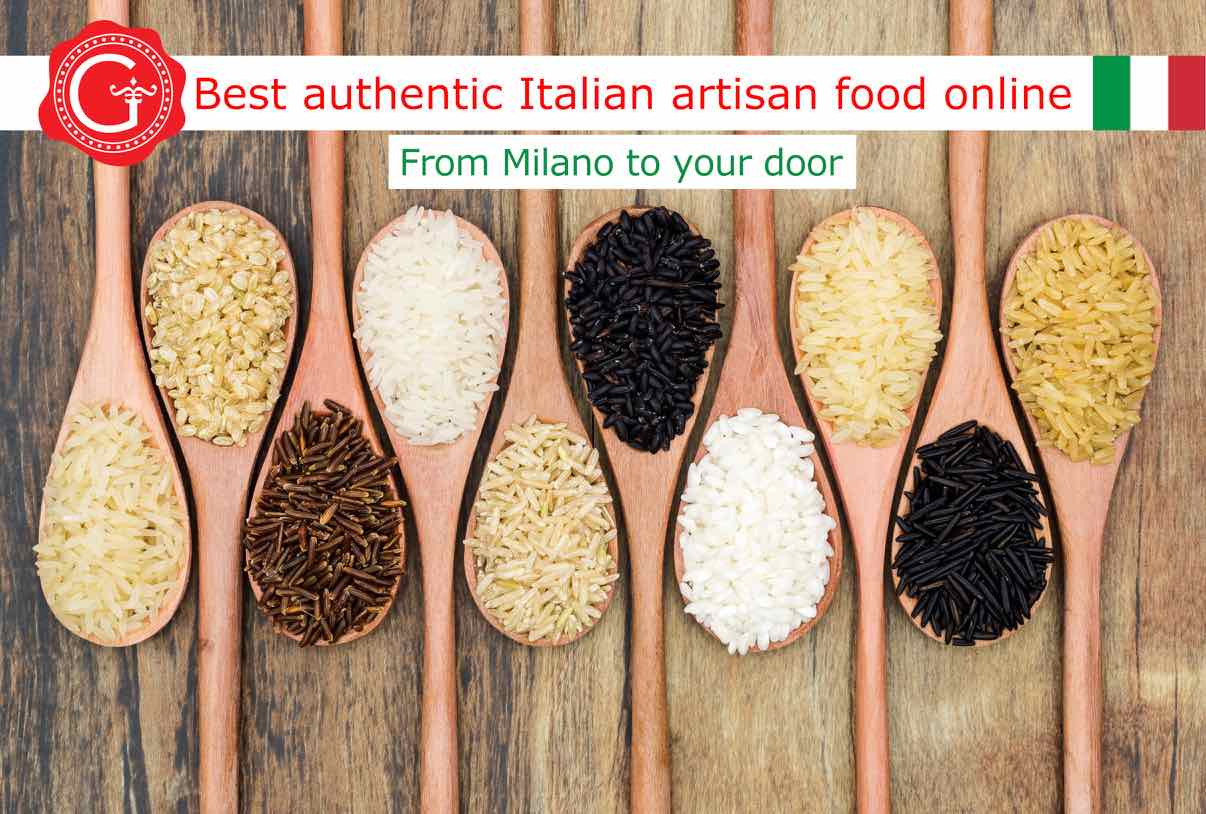 SHOP ONLINE THE BEST ARTISAN ITALIAN INGREDIENTS FOR YOUR DISHES
On Gustorotondo you find the best artisan Italian ingredients for your dishes:
brown and white rice, extra virgin olive oil, wine vinegar, high-quality artisan pasta.
We look for producers who have high-quality standards, and we offer artisan Italian good products that enhance the tradition and authentic flavours of the Italian cuisine.
Gustorotondo was born as a traditional Italian food store in the center of Milan, and then started the e-commerce business. Now you can shop traditional Italian food online on Gustorotondo. You can buy from all over Italy, from England, from Germany, from the Netherlands, from the Czech Republic, and from all the other European countries.
Shop online the best authentic artisan Italian food at Gustorotondo!
INGREDIENTS FOR 4 PERSONS
Rice 320 g
Tomatoes 160 g
Peas 120 g
Cooked ham 120 g
Olives in evo oil 80 g
Tuna in olive oil, drained 200 g
Emmental cheese 160 g
Eggs 4
Extra virgin olive oil to taste
Wine vinegar to taste
Salt to taste
METHOD
Place a large container in the refrigerator.
Start cooking the rice.
Make the 4 hard boiled eggs.
Dice the tomatoes, the cooked ham and the Emmental cheese.
Cut the olives into slices (two or three slices per olive).
Cook the peas.
Finish cooking the rice a few minutes before reaching the time indicated on the package.
Take the container you previously placed in the refrigerator, and place the rice inside to cool.
Cut the eggs into slices.
Open the tuna can, and drain the oil.
Add to the rice the tuna and other ingredients, except for a few slices of eggs.
Season with extra virgin olive oil, vinegar and salt.
Serve the dish adding on top the egg slices kept aside.
A portion of rice salad brings about 890 kcal. The macronutrients are divided as follows: protein 45 g, lipids 46 g, carbohydrates 68 g. The fatty acids are: saturated 14 g, monounsaturated 24 g, polyunsaturated 5 g.
HOW TO STORE THE RICE SALAD
You can keep the rice salad in the refrigerator for 2 or 3 days. Seal it in an airtight container or protect it with plastic wrap.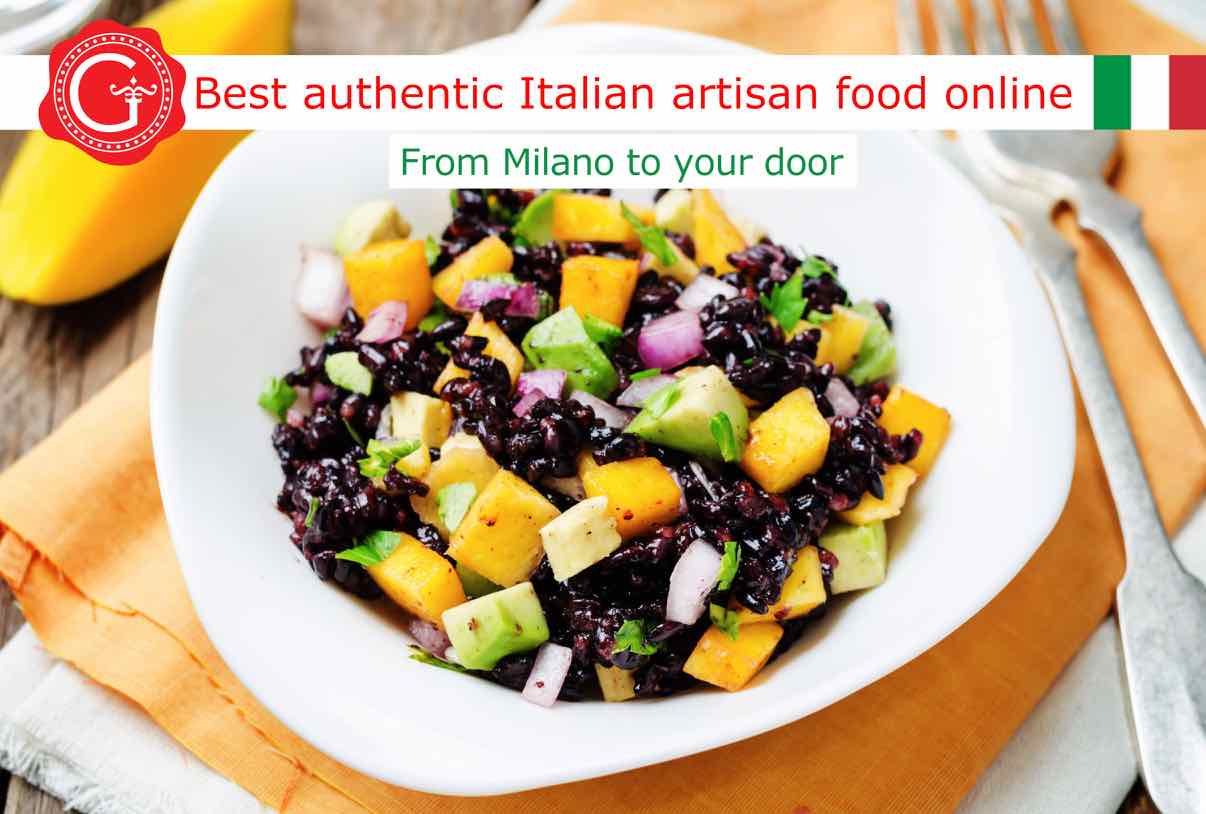 SOME TIPS OR FURTHER INFORMATION
Italian cold rice salad recipe can be prepared using many different ingredients and seasonings. You can really experiment, trying to create healthy and tasty recipes with different flavors and even colours. For example, you can use mint leaves to give more freshness to the dish, or add almonds, walnuts and other dried fruits. You can also season the dish with lemon juice and a pinch of pepper. Or you can use Venere black rice or Ermes red rice for a touch of taste and colour. Some recipes are indicated with specific names, such as "Mediterranean rice salad", but the ingredients used are not always the same.