Broccoli rabe and sausage is a tasty, nutritious and easy to prepare dish.
The recipe is typical of Southern Italy, and there are some different variations. For example, the broccoli rabe (also known as rapini, and in Italy usually called cime di rapa) can be first boiled and then cooked in a pan, or just cooked in a pan. The type of sausage also varies from one recipe to another. In Campania the broccoli rabe and sausage recipe is called Sacicc' 'e friariell', where the friarielli are the youngest inflorescences of rapini. In Calabria the name of the recipe is vruacculi i rapi e sazizza.
Let's see a version of the broccoli rabe and sausage recipe, some tips and nutritional values.
The preparation and cooking time is about 20 minutes after trimming rapini. This last operation takes about 5 minutes.
BROCCOLI RABE AND SAUSAGE INGREDIENTS FOR 4 PERSONS
1 kg broccoli rabe to be trimmed
500 g hot sausage
1 or 2 garlic cloves
1 red chili pepper
2 tablespoons

extra virgin olive oil

Salt to taste
HOW TO MAKE IT
Making broccoli rabe with sausage is easy. Follow these steps:
First trim and wash the rapini. If you need information, see

how to trim broccoli rabe

.
Put a pot of water on the stove. When the water boils, dip the rapini together with a little salt and cook them al dente (it will take from 5 to 10 minutes, depending on their size).
While rapini are cooking, take a pan and put it on the stove. Brown the sausages for at least 10 minutes together with a ladleful of cooking water. Turn the sausages every so often.
Put a saucepan on the fire, and add a little extra virgin olive oil, peeled and crushed garlic cloves and chili broken with your hands. Sauté for a few minutes, stirring with a wooden spoon.
Add the cooked al dente and drained rapini, and sauté the ingredients for about 5 minutes.
Remove the garlic clove and add the sausage. Mix with a wooden fork so that the flavors blend together.
Your dish is ready. Serve hot, perhaps with a few slices of toasted bread.
SHOP ONLINE ON GUSTOROTONDO THE BEST ARTISAN ITALIAN FOODS
On Gustorotondo you find the best artisan Italian ingredients for your dishes.
We look for producers who have high-quality standards, and we offer artisan Italian good products that enhance the tradition and authentic flavours of the Italian cuisine.
Gustorotondo was born as a traditional Italian food store in the center of Milan, and then started the e-commerce business. Now you can shop traditional Italian food online on Gustorotondo. You can buy from all over Italy, from England, from Germany, from the Netherlands, from the Czech Republic, and from all the other European countries.
Shop online the best authentic artisan Italian food at Gustorotondo!
SOME TIPS OR FURTHER INFORMATION
When you go shopping, first of all make sure you are buying broccoli rabe. Sometimes the name with which they are indicated is rapini. Then check that besides the leaves there are the little flowers, still closed. Also, check that rapini are fresh: they should be well turgid (and not floppy or wilted) and have a bright green color (and not yellowing); the flowers have to be all well closed. The more the flowers are developed, the more the substances that give a bitter taste are present.
The recipe for the Calabrese broccoli rabe and sausage dish foresees, at least in some versions, that the rapini are not blanched. They are cooked directly in the pan for about fifteen minutes. The sausages used are the spicy Calabrese sausages.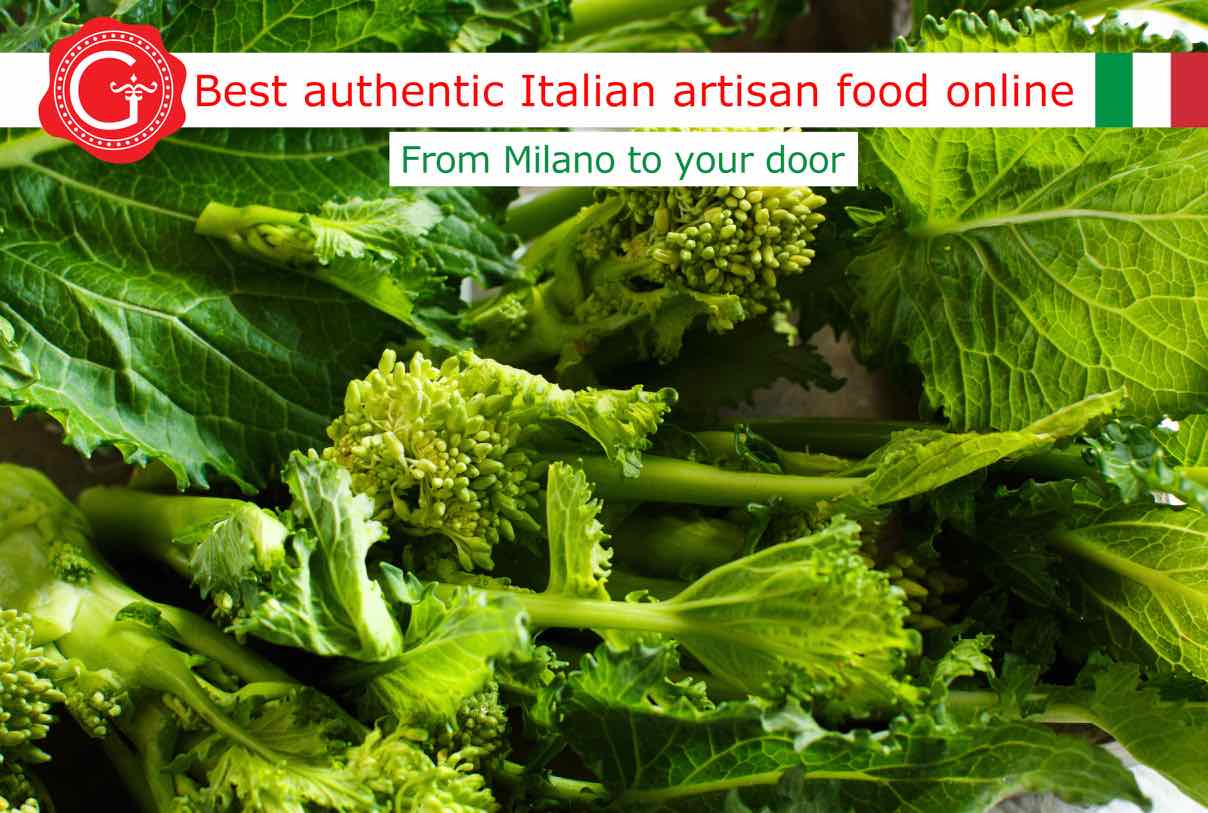 BROCCOLI RABE WITH SAUSAGE CALORIES AND NUTRITIONAL VALUES
A dish of broccoli rabe and sausage brings about 460 kcal and contains approximately;
Proteins 26 g
Lipids 36 g
Carbohidrates 7 g
Dietary fiber 4 g
The composition of fatty acids is as follows:
Saturatedfatty acids 11 g
Monounsaturated fatty acids 18 g
Polyunsaturated fatty acids 6 g
A dish contains approximately 88 mg of cholesterol.
SOME OTHER RECIPES USING BROCCOLI RABE AND SAUSAGES
Rapini and sausages are also used as ingredients in other recipes. For example we find:
Orecchiette with broccoli rabe and sausage
Lasagne with broccoli rabe and sausage
Broccoli rabe, sausage and potatoes
Risotto with rapini and sausage