The history of pasta from Italy is part of a wider and articulated history.
Since the Middle Ages, Italy has developed a cuisine that assigns pasta a primary food role: pasta is neither just a side dish or accompaniment, nor just an ingredient in broth dishes.
Sicily was perhaps the cradle of the artisanal production of dry pasta; from here, as early as the 12th century, dried pasta was marketed along the Mediterranean routes.
In this article we will find out more about pasta from Italy. Enjoy the reading!
WHO BROUGHT PASTA TO ITALY?
If pasta from Italy has a long tradition, it is also true that in turn this tradition is part of a wider story. The tradition of stringlike or grainlike pasta was brought to Sicily by the Arabs. Already in the 12th century in Sicily the production of this type of pasta (indicated as itriyya) was active and from there it was marketed along the Mediterranean routes.
In Sicily perhaps the small stringlike or grainlike pasta, often dry, crossed with the tradition of fresh sheet pasta (lagana).
The Arab geographer Idrisi (ca. 1100 – 1165), a scholar working at the court of the Norman King Roger of Sicily, writes:
«To the west of Termini there is a town called 'at tarbì'ah («the squared », Trabia municipality) an enchantace to live, abounding in perennial waters that [drive] numerous mills. Trabia has a vast plain with many great estates, where great [quantities] of pasta are made and exported everywhere, especially to Calabria and other Muslim and Christian lands; many shiploads are sent» (1).
Sicily was probably the cradle of intensive production of dry Italian pasta, and Sardinia was its main competitor.
SHOP ONLINE THE BEST DRIED PASTA FROM ITALY
On Gustorotondo you find the best durum wheat semolina pasta from Italy and other high-quality authentic Italian foods.
We look for producers who have high-quality standards, and we offer artisan Italian good products that enhance the tradition and authentic flavours of Italian cuisine.
Gustorotondo was born as a traditional Italian food store in the center of Milan, and then started the e-commerce business. Now you can buy traditional Italian food online on Gustorotondo from all over Italy, from England, from Germany, from the Netherlands, from the Czech Republic, and from all the other European countries.
Shop online the best authentic artisan Italian food at Gustorotondo!
SOME OTHER PASTA HISTORY FACTS ABOUT PASTA FROM ITALY
Italy has developed above all the tradition of the so-called pastasciutta, that is of pasta not in broth. However, this does not mean that the pasta has always been cooked al dente or in any case for a short time.
During the Middle Ages, even on the advice of doctors, the pasta was cooked very long. Long cooking remained the normal way of cooking pasta until the nineteenth century.
Short cooking probably originated in the streets of Naples during the 19th century.
During the twentieth century, then, dried pasta and spread in Italy and al dente cooking in different parts of the world, also through Italian emigration.
WHICH IS THE MOST POPULAR PASTA IN ITALY?
The most popular pasta in Italy is spaghetti. Actually, although we have now used the singular verb, spaghetti is a plural. The singular name spaghetto translates small string. Spaghetti is plural, and therefore translates to small strings.
In general, at least most of the time, the Italian names used to indicate dry pasta formats are plural forms. For example, butterflies, fusilli, lasagne, and macaroni are plural forms.
Spaghetti are present in the culinary traditions of southern Italy, central and northern Italy. Furthermore, they are the most representative format of Italian pasta: pasta from Italy is first of all spaghetti.
One of the classic recipes made with this format is Spaghetti alla Carbonara, with cured pork cheek and eggs which wrap around hot pasta.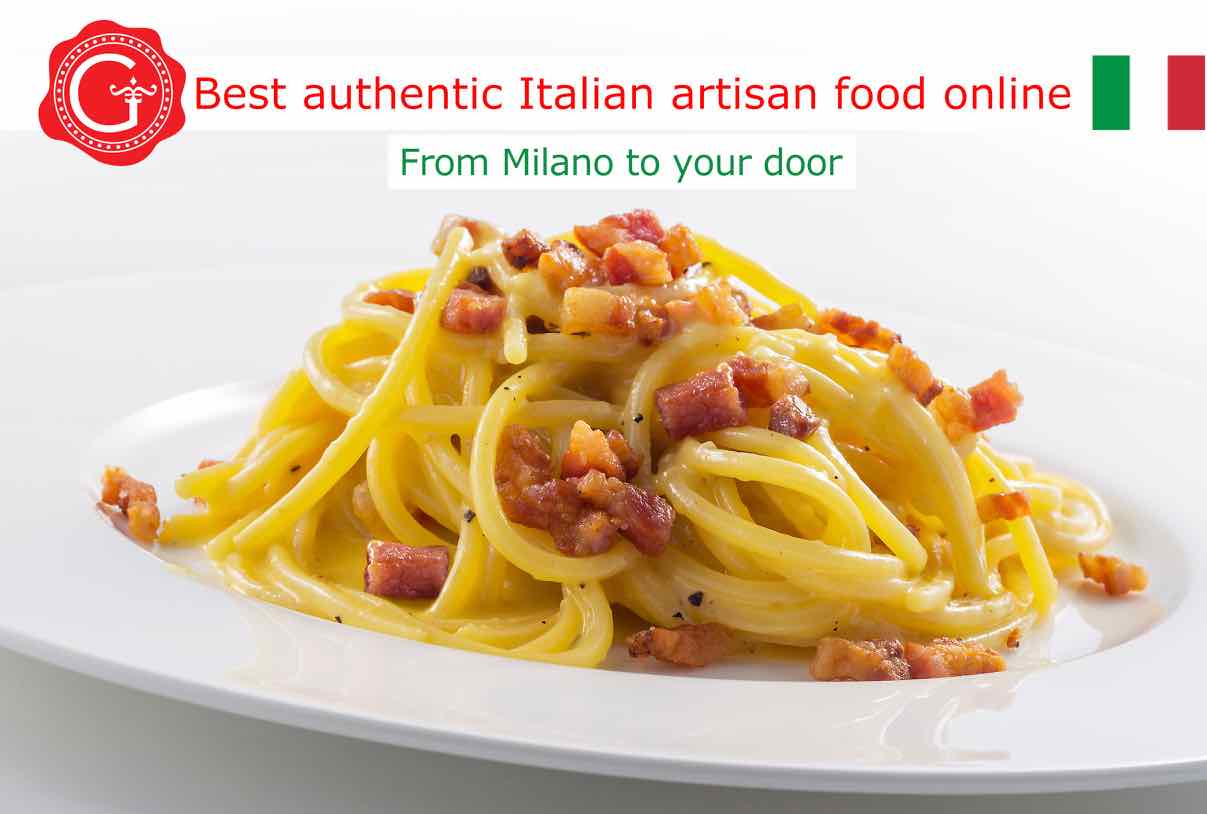 SOME FAMOUS ITALIAN PASTA DISHES
In addition to the carbonara pasta, there are many other classic Italian pasta recipes. Among the most popular Italian pasta dishes we find:
Arrabbiata
The Arrabiata is a typical Roman recipe, and it is usually cooked with Penne.
The name Arrabbiata translates to Angry, and according to some it derives from the fact that those who eat this spicy dish become blush, as if they were angry.
Pasta alla Norma
Another famous Italian pasta dish is pasta alla Norma, a typical Sicilian recipe. According to some, the name derives from an expression by a Sicilian playwright, writer and poet, Nino Martoglio. While eating, Nino Martoglio was so impressed by the goodness of the dish that he compared it to the Norma, the famous work of the composer Vincenzo Bellini.
Aglio, olio e peperoncino
Aglio, olio e peperoncino translates to Garlic, oil and chilli.It is another famous Italian pasta dish.
The recipe was born in southern Italy, where its ingredients were widespread much more than in the northern cuisine. Usually, Aglio olio e peperoncino is prepared using spaghetti, but also with linguine.
HOW IS PASTA MADE?
The pasta production process has changed over time. In particular, between the end of the 19th century and the beginning of the 20th century, pasta's production process became mechanized.
Today, in the production of durum wheat semolina pasta, we can identify different phases:
Harvesting of durum wheat
Production of durum wheat semolina through grinding and sieving durum wheat
Kneading: durum wheat semolina and water are combined, and durum wheat semolina is reduced to smaller particles; in this phase gluten is formed
Extruding, that is shaping the dough by passing it through a die, an instrument with holes. The dies can be made with different materials. Teflon dies produce a smoother pasta surface, while bronze dies give a rougher texture
Drying, that is the most delicate phase of the pasta production process. The pasta is dried by currents of hot air. Producers use different drying methods
Stabilization: durum wheat semolina pasta is placed in an appropriately air-conditioned environment to consolidate permanently
Packaging
HIGH-QUALITY DURUM WHEAT PASTA FROM ITALY
Over 100 companies produce pasta in Italy. Some of the smaller companies, indicated sometimes as artisan pasta producers, produce particularly high-quality pasta.
One important phase in pasta production is the drying stage. Some producers use high temperature drying methods (70 – 80 °C, 158 – 176 °F), which allow a very short drying time (a few hours). Other pasta factories use drying systems that provide lower temperatures (for example temperatures below 54 °C, 129,2 °F). In this latter case, the drying process requires much longer times (for example 30 hours). Low temperatures make it easier to better maintain the organoleptic and nutritional characteristics of the raw material (durum wheat).
PASTA FROM ITALY: SOME REFERENCES AND BIBLIOGRAPHY
Silvano Serventi, Françoise Sabban, Pasta, the story of a universal food. Translated by Antony Shugaar. Columbia University Press, Translation copyright © 2002 Columbia University Press
(1) L'Italia descritta nel «Libro del Re Ruggero» compilato da EDRISI. Testo arabo pubblicato con versione e note da M. AMARI e G. SGHIAPARELLI. Memoria letta nella seduta del 17 dicembre 1876. Pagina 28
IF YOU ENJOYED THE ARTICLE ABOUT PASTA FROM ITALY, SHARE IT AND SIGN UP TO THE GUSTOROTONDO NEWSLETTER!
Gustorotondo Newsletter informs you about good Italian food, Italian recipes and cuisine, Italian artisan producers, tasty & healthy food products and exclusive offers.
You may also be interested in: