Sautéed broccoli rabe are a simple, healthy and tasty side dish to prepare.
Broccoli rabe (Brassica Rapa L. subsp. Sylvestris L. Janch. Var. Esculenta Hort.), also called cime di rapa, rapini or broccoli raab, are typically grown and cooked in Central and Southern Italy. Today, they are known throughout Italy and abroad.
In Italy broccoli rabe is also called Broccoletto di rapa and, in the Salento are in province of Lecce, Rapacaula. Furthermore, the younger inflorescences are locally called Friarielli (in the Naples area) or Broccoletti.
Let's see a recipe for sautéed broccoli rabe, some tips and some further information.
The time for the preparation of the dish is about 20 minutes after trimming the broccoli rabe. This last operation takes about 5 minutes. A plate of sautéed broccoli rabe brings about 120-150 kcal, mostly deriving from the oil for sautéing them.
INGREDIENTS FOR 4 PERSONS
Here are the ingredients for cooking sautéed broccoli rabe with garlic, extra virgin olive oil and chilli:
Broccoli rabe to be trimmed 1 kg
Garlic 2 cloves
Extra virgin olive oil (LINK) 2 spoons
Salt to taste.
Chili pepper to taste
PREPARATION OF SAUTÉED BROCCOLI RABE
Cooking sautéed broccoli rabe with garlic, evoo and a pinch of chilli is simple:
First trim and wash the turnip greens. If you need it, see

how to trim broccoli rabe

.
Set a pot of water on the stove. When the water boils, dip the rapini and cook them until they becomeal dente(it will take from 5 to 10 minutes, depending on their size).
Drain broccoli raab.
Take a pan, and pour a little extra virgin olive oil. Heat the oil, then add the garlic and the chilli broken by hand. Brown the ingredients for a few minutes.
Add the blanched broccoli rabe.
Cook the ingredients in the pan without lid for another 10 minutes or so.
Here are the sautéed broccoli rabe with garlic, evo oil and chilli. Serve them hot, perhaps with a few slices of toasted bread. If you want, you can add a little dried fruit, such as almonds, walnuts, hazelnuts or peanuts.
SHOP ONLINE THE BEST ARTISAN ITALIAN FOODS
On Gustorotondo you find the best artisan Italian ingredients for your sautéed broccoli rabe. We look for producers who have high-quality standards, and we offer artisan Italian good products that enhance the tradition and authentic flavours of the Italian cuisine. Gustorotondo was born as a traditional Italian food store in the center of Milan, and then started the e-commerce business. Now you can buy traditional Italian food online on Gustorotondo from all over Italy, from England, from Germany, from the Netherlands, from the Czech Republic, and from all the other European countries.
Shop online the best authentic artisan Italian food at Gustorotondo!
SAUTÉED BROCCOLI RABE CALORIES, SOME TIPS OR FURTHER INFORMATIONS
When you go shopping, first check if you really have broccoli rabe in front of you. Sometimes the name with which they are indicated is broccoletti di rapa, or rappini, rapini, broccoli raab. Then, watch that in addition to the leaves there are also the flowers still closed. Also, check that they are fresh: to do this, look at the seedlings being well-turgid (and not floppy), having a nice green color and having all the flowers tightly closed. The more the flowers are developed, the more the substances that give a bitter taste to the broccoli rabe are present.
Sautéed broccoli rabe calories: rapini contain few calories: around 22 kcal per 100 grams. The nutritional values ​​for 100 g of raw vegetables are as follows:

Water 92 %
Proteins 2,9%
Lipids 0,3%
Carbohydrates 2%
Dietary fiber 2,9%
Iron 1,5 mg
Calcium 97 mg
Phosphorus 69 mg
Thiamine 0,04 mg
Riboflavin 0,16 mg
Niacin 1 mg
Vitamin A 225 µg
Vitamin C 110 mg
Broccoli rabe have a good polyphenol content.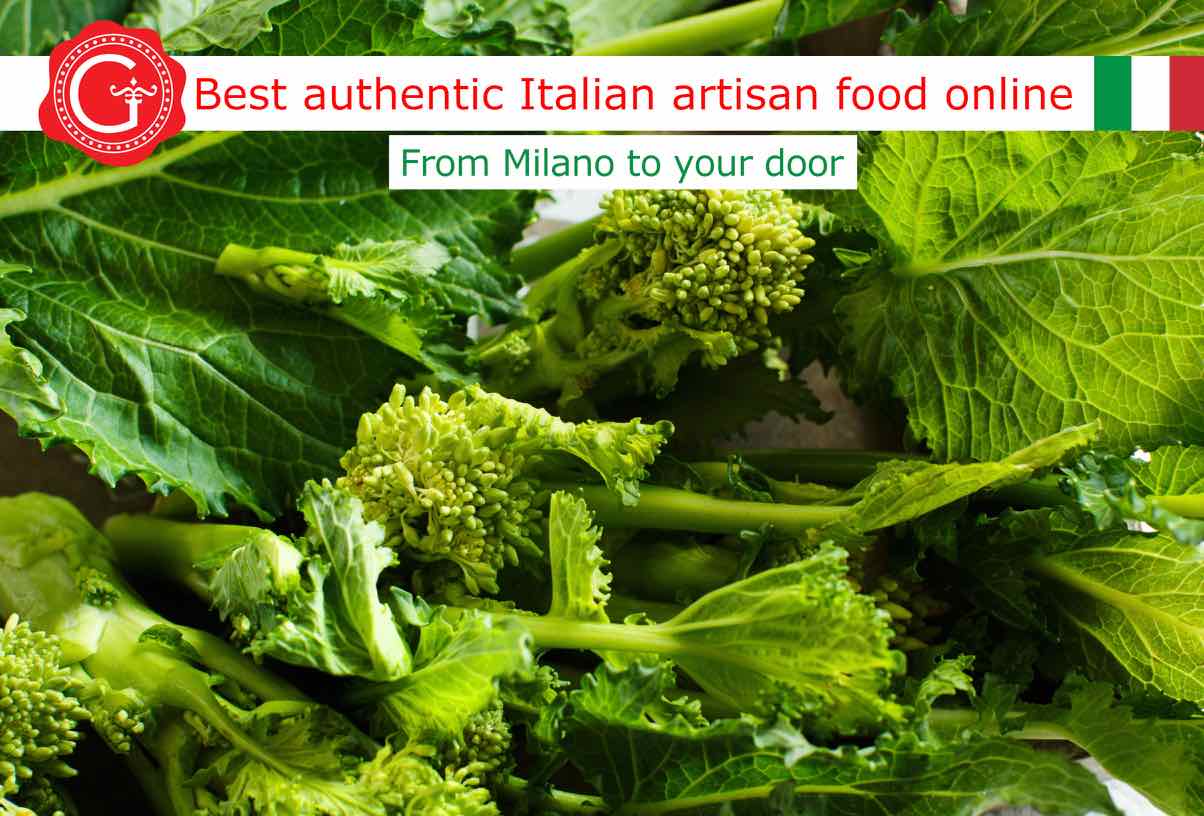 SAUTÉED BROCCOLI RABE WITH ANCHOVIES
Sautéed broccoli rabe are often prepared with the addition of anchovies.
If you wish to add this ingredient to the recipe, for 4 people use about 120 g of salted anchovy fillets.
Rinse the fillets under running water, and put them in the pan after you have browned the other ingredients for a few minutes (step 4 of the recipe above). Split the anchovies in a pan with a wooden spoon, and then continue with the recipe.
When a couple of minutes to the end of cooking are left, if you want you can add a sprinkling of breadcrumbs.
SOME REFERENCES AND BIBLIOGRAPHY
IF YOU ENJOYED THE ARTICLE ABOUT SAUTÉED BROCCOLI RABE, PLEASE SHARE IT AND SIGN UP TO THE GUSTOROTONDO NEWSLETTER!
Gustorotondo Newsletter informs you about good Italian food, Italian recipes and cuisine, Italian artisan producers, tasty & healthy food products and exclusive offers. You may also be interested in: